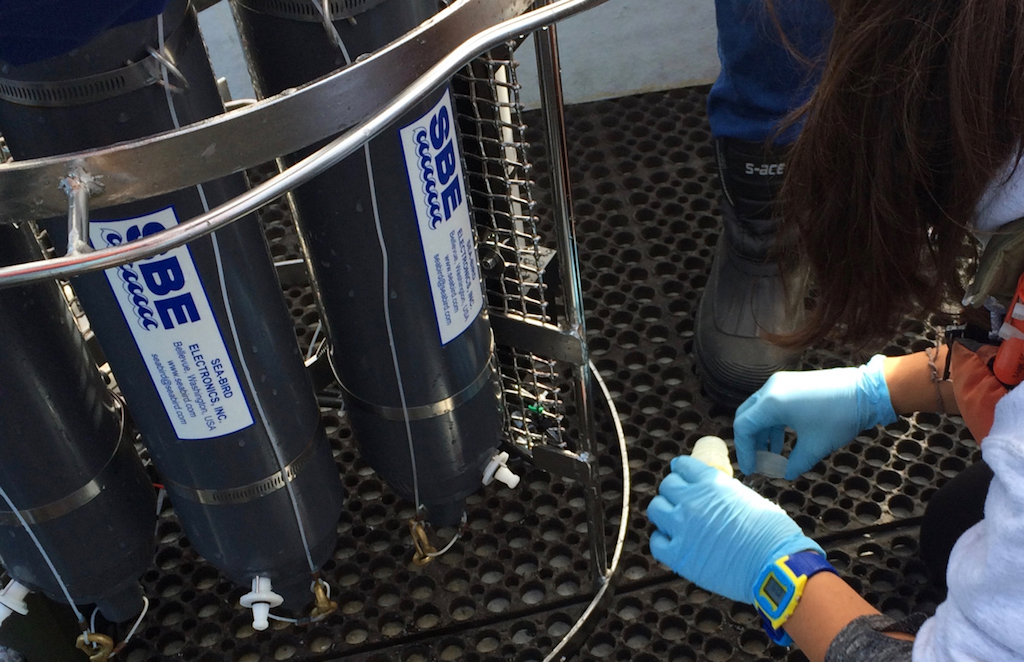 SMS Faculty Search: Assistant Professor of Chemical Oceanography
Assistant Professor of Chemical Oceanography (id:51940)
School of Marine Sciences
University of Maine
Apply via the UMaine Hiretouch website.
Review of applications will begin January 14, 2019
The University of Maine invites applications for a tenure-track Assistant Professor in the broad field of Chemical Oceanography, a nine-month (academic year) position with teaching and research responsibilities, beginning in the Fall, 2019. The School of Marine Sciences has vibrant Oceanography, Marine Biology, Aquaculture, and Marine Policy programs with faculty and students based on the main campus in Orono, at the Darling Marine Center on the mid-coast of Maine, and at the Gulf of Maine Research Institute in Portland, Maine. This position is a part of the University of Maine's investment in the Signature and Emerging Areas of Excellence program.
The successful applicant will be expected to develop and maintain a vigorous research program on the ocean system that could range from focused topics basic to the discipline to ecosystems analyses. The candidate's research should enhance the education of both Ph.D. and M.S. graduate students as well as undergraduates. There is a strong expectation that the office and laboratory space for this position will be located at the well-equipped UMaine coastal marine laboratory, the Darling Marine Center. The successful candidate will teach a core graduate course in Chemical Oceanography, contribute to other graduate and undergraduate courses at both the Orono campus and at the Darling Marine Center, and fulfill a broader service role in both academic, departmental, and public forums.
Qualified applicants will have a Ph.D. in Oceanography or a relevant scientific discipline at the time of hire. The candidate's future research plans should demonstrate an interest and ability to take advantage of, but not necessarily restricted to, Maine's unique ocean environment. Qualified candidates will have a strong background or interest in transdisciplinary science and seek to understand issues critical to the ocean system at global, regional, or local scales such as, but not limited to, organic and inorganic carbon and nutrient cycling, ocean-atmosphere or ocean-land interactions, coastal geochemical processes, or biogeochemical cycling and modeling. The successful candidate will have a strong publication record appropriate to their career stage, a demonstrated ability for transformative research within the discipline, success with external research funding, and illustrate the potential for outstanding teaching and mentoring.
Materials must be submitted via the UMaine Hiretouch website:
At the bottom of the webpage, press "Apply For Position". You will need to create a profile and application; and upload:
 a cover letter which describes your experience, professional education, interests, and suitability for the position
 a full curriculum vitae
 contact information for four professional references (including titles, institutions, postal and email addresses, and telephone numbers)
 a selection of up to five publication PDFs
 a summary of research goals
 statement of teaching interests, philosophy, and experiences
All materials must be submitted electronically in PDF format through the UMaine Hiretouch and a copy emailed to SMS's Administrative Coordinator, Sue Thibodeau at susanne@maine.edu.
Search Timeline is as follows:
Review of applications to begin: January 14, 2019
Screening interviews to begin no earlier than: January 28, 2019
On-site interviews to begin no earlier than: March 1, 2019
Tentative start date: Fall 2019
For questions about the search, please contact Mark Wells, the Chair of the Search Committee, at mlwells@maine.edu.