Grad Students
Graduate students based at the DMC are enrolled in the University of Maine's School of Marine Sciences Graduate Program and are pursing a M.S. or Ph.D. in Marine Biology, Oceanography or Marine Policy.
---
Marina Cucuzza
M.S. candidate,  Dual Degree Program, Marine Biology & Marine Policy
Advisors: Dr. Heather Leslie and Dr. Josh Stoll
marina.cucuzza@maine.edu
More Information
Research interests: For my dual Masters in Marine Biology and Marine Policy at UMaine, I am interested in exploring the human and environmental dimensions of coastal sustainability.  My research focuses on resilience and management of Maine's fishing communities in the face of ecological and social change.
---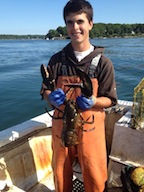 Andrew Goode
Ph.D. candidate in Oceanography
Advisor: Dr. Damian Brady
Andrew.Goode@maine.edu
More info
Research Interests: how oceanographic conditions and processes influence ecologically and economically important species in the Gulf of Maine. The two main species my research focuses on are the American lobster, Homarus americanus, and the Eastern/American oyster, Crassostrea virginica. Recruitment processes of lobster invariably affect the abundance of harvestable individuals, and understanding the oceanographic influence to benthic recruitment of juveniles is key in understanding population dynamics in a stochastic and changing ocean environment. In contrast, much of the oyster population dynamics are now largely influenced by nearshore aquaculture. With aquaculture being a multi-million dollar industry for coastal Maine per year it is key in understanding ideal locations for aquaculture sites and the upper population limit that those sites can reasonably sustain. Combining oceanographic modeling and oyster biology we can identify regions along Maine, and within certain bays/estuaries, that can sustain large oyster populations via aquaculture. Identification of these regions would inform oyster aquaculture site selection and positively influence the economy of coastal Maine.
---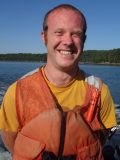 Carl Huntsberger
M.S. Candidate, Marine Biology
Advisor: Dr. Rick Wahle
carlton.huntsberger@maine.edu
More info
Research interests: to find an accurate way to determine a lobster's age
---
Julia Johnstone
Ph.D. candidate, Marine Biology
Advisor: Dr. Rhian Waller
---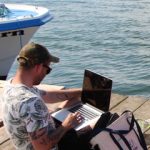 Nicholas Keeney
Ph.D. candidate, Oceanography
Advisor: Dr. Damian Brady
nicholas.keeney@maine.edu
More Info
Research interests: biological-physical interaction, distributed computing, ocean models, marine spatial planning, machine learning.
---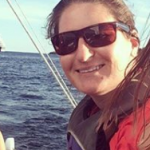 Kate Liberti
Ph.D. candidate, Oceanography
Advisor: Damian Brady
Research interests: Quantifying the biological and physical drivers of primary production and carbonate chemistry in the Damariscotta River oyster aquaculture growing area, and understanding the interplay between them.
---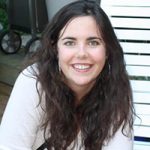 Maura Niemisto
M.S. candidate,  Marine Biology
Advisor: Dr. Rick Wahle
Research interests: the effects of ocean  warming and acidification on the behavior, physiology, and gene expression of larval lobsters.
---
Kara Pellowe
Ph.D. candidate, Ecology and Environmental Sciences
Advisor: Dr. Heather Leslie
---