Friday Science Seminars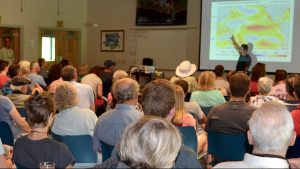 Our summer seminar series begins Friday, June 23, and features eight renowned researchers in the field of marine science. These fun and informative talks will engage the public in topics ranging from the studies of the Gulf of Maine to the exploration of the deep sea. The talks will be held every Friday through August 11. These hour-long seminars will take place at 10:30 a.m. in Brooke Hall on the Darling Marine Center's lower campus.
The seminars are free but registration is requested at tinyurl.com/y87uxsmw.
---
June 23 – Resilient Coastal Communities and Marine Ecosystems: Translating science into action.
Heather Leslie, University of Maine Darling Marine Center and School of Marine Sciences
June 30 – The Laws of Herring
Alison Rieser – University of Hawaii, Mānoa

July 7 – Fishing and Farming Scallops in Maine
Dana Morse, Maine Sea Grant at the Darling Marine Center
July 14 – Plankton, Right Whales and Change in the Gulf of Maine Ecosystem

Jeff Runge, University of Maine School of Marine Sciences and Gulf of Maine Research Institute

July 21 – One if by Land, Two if by Sea: Understanding how Maine estuaries are changing
Damian Brady, University of Maine Darling Marine Center and School of Marine Sciences

July 28 – Exploring Life at Deep-Sea Hydrothermal Vents
Jeremy Rich, University of Maine Darling Marine Center and School of Marine Sciences
August 4 – Coastal Flooding
Jon Woodruff – University of Massachusetts, Amherst
August 11 – Diving Deep: Tales from Deep Sea Exploration
Rhian Waller, University of Maine Darling Marine Center and School of Marine Sciences