Friday Science Seminars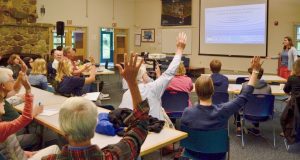 "Connecting people to the ocean" is the theme for the Darling Marine Center's 2019 summer seminar series which begins Friday, June 28. The seven seminars, presented by faculty, students and alumni of the University of Maine's School of Marine Sciences, will highlight marine research that's helping us better understand the world's marine ecosystems and the human communities that are a part of them.
The free talks will be held Fridays at 10:30 a.m. in Brooke Hall on the DMC's lower waterfront campus through August 16. There is no seminar July 5.
Directions to the DMC are here.
DMC campus map is here.
---
June 28: Maine Coastal Community Resilience Project
•  Heather Leslie, UMaine Darling Marine Center and
•  Carl Wilson, Maine Department of Marine Resources
July 12: Marine Science for Maine People: With a surprise or two 
•  Gayle Zydlewski, Maine Sea Grant College Program
July 19: The American Lobster – Poster Child of a Changing Marine Ecosystem
•  Rick Wahle, UMaine School of Marine Sciences at the Darling Marine Center and the Lobster Institute
July 26: Marine Ecosystems that Trump Climate Change: Seas of Good News in an Ocean of Worry
•  Bob Steneck, UMaine School of Marine Sciences at the Darling Marine Center

August 2: Red Tides, Unusual Plankton Blooms, and Recent Changes in the Oceanography of the Gulf of Maine
•  David Townsend, UMaine School of Marine Sciences
August 9: Aquaculture in Maine: Challenges and Opportunities for Sustainable Seafood Production
•  Chris Davis, Maine Aquaculture Innovation Center and
•  Damian Brady, UMaine School of Marine Sciences at the Darling Marine Center
August 16: Showcase of DMC Graduate Student Research
Rachel Presley, "Nitrogen biogeochemistry: why and how we study nitrogen cycling in marine sediments"
Julia Johnstone, "Cold water coral reproduction and development in a changing ocean"
Andrew Goode, "Are lobster traps damaging the seafloor?"
Melissa Britsch, "Understanding the values shaping Maine's changing aquaculture industry"
Marina Cucuzza, "Comprehensive plans as tools for coastal community resilience"