Wednesday Walking Tours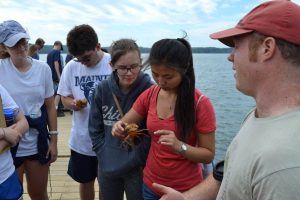 Join us this summer for a walking tour of our waterfront laboratories. Tours are offered Wednesday mornings beginning  June 27, 2018 and running through August 15. No tour on July 4.
Our student guides will give an overview of our location on the Damariscotta River estuary before leading the group through the flowing seawater laboratories. Visitors will learn about marine science education at the University of Maine and current research at the DMC focusing on shellfish aquaculture, lobster ecology, biodiversity and our changing ocean. During the tour, scientists and students will gladly answer questions, talk about their research, and explain its significance to our community.
The 90-minute tours begin at 10:30 a.m. at the circle driveway near the Marine Culture Laboratory on the DMC's lower, waterfront campus.
The tours are free but preregistration is requested, tinyurl.com/DMCsummertours.
Directions to the DMC are here.
DMC campus map is here.