Horseshoe Crab Report – Local Effort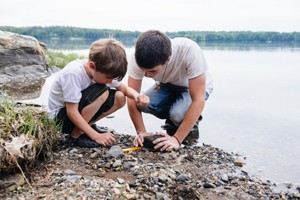 Andrew Goode, an undergraduate student from Boothbay, spent the summer of 2014 working at the Darling Marine Center with Dr. Rick Wahle on his Capstone project. The work involved summarizing population surveys of the Atlantic horseshoe crab (Limulus polyphemus) collected by volunteers of the Damariscotta River Association (DRA) over a 12 year period.
"In Maine, horseshoe crabs live at the northern edge of their geographic range, and are an important indicator of environmental change in coastal estuaries," notes Wahle. The objectives of the on-going study were to track horseshoe crab population changes over time and tease out environmental factors that may explain the patterns found in the population surveys.
Goode, who will graduate from UMaine in 2016 with a Bachelor's degree in marine science, says the most interesting result was "how well winter temperatures correlated with the average number of horseshoe crabs observed during that year."
Additionally, no strong association was found between horseshoe crab counts and lunar phase. While lunar phase may be a primary factor synchronizing spawning activity in other estuaries to the south, salinity and temperature appear to be important in modulating the appearance of horseshoe crabs at our monitoring stations in this estuary.
The results also suggest that the population in the upper Damariscotta River has varied slightly without significant trend since the study began in 2002. Stable abundance, size and sex ratios indicate that the populations are being maintained.
Sarah Gladu, DRA Director of Education and Environmental Monitoring points out, that "we do not know the real carrying capacity of the estuary for horseshoe crabs because we do not have quantitative historical data [earlier than 2002], when the harvesting moratorium on horseshoe crabs was implemented by the Department of Marine Resources. It is believed that the populations were at a low and the numbers have not rebounded since then. We need to continue the study and include age-class distributions to know if horseshoe crabs are making a comeback because they take ten years to reach reproductive maturity."
Both Wahle and DRA Executive Director Steven Hufnagel are quick to praise all aspects of the horseshoe crab study.
Wahle describes the project as "a win-win opportunity" in which a UMaine marine science student could gain practical experience doing research, and at the same time, serve the DRA's interest in working up and analyzing data generated by more than a decade of citizen science.
"We greatly value our relationship with the Darling Marine Center through its wonderful staff and scientists," says Hufnagel. "They have done an excellent job taking our long-term data sets gathered over many years by trained volunteers, analyzing them and putting them into context with additional data they, their students and colleagues have collected. Andrew Goode and Dr. Rick Wahle have done so with our longitudinal horseshoe crab data and we couldn't be more thrilled."
Hufnagel extends his thanks to all DRA's friends and supporters, as well as Rick, Andrew and DMC/University of Maine.
The full report is now available from the DRA at dra@damariscottariver.org office or by contacting Dr. Rick Wahle at richard.wahle@maine.edu.
Individuals interested in participating in this spring's horseshoe crab monitoring program should contact the DRA. For more information call 207-563-1393, email dra@damariscottariver.org, or view their web site at damariscottariver.org.
The Damariscotta River Association is a non-profit, membership supported, and nationally accredited land trust dedicated to preserving and promoting the natural, cultural, and historical heritage of the Damariscotta region, centered on the Damariscotta River. DRA has active programs in the areas of land conservation, stewardship, community education, water quality monitoring, marine conservation and cultural preservation.
The Darling Marine Center is the marine laboratory of the University of Maine. Located on the Damariscotta River Estuary in Walpole, it celebrates its 50th anniversary this year. DMC faculty and students are associated with UMaine's School of Marine Sciences. Their research interests interests range from biogeochemistry, remote sensing and ocean optics to invertebrate taxonomy and ecology, deep-sea biology, phytoplankton physiology and marine archaeology. Learn more at dmc.umaine.edu.