Geographies of Change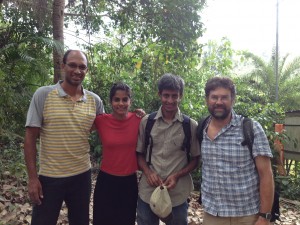 Dr. Rick Wahle has returned from a trip to the Andaman Islands where he was a guest instructor for a new course "Uncertain Islands: Geographies of Change" organized by the Dakshin Foundation and India Institute of Science in Bangalore, and the University of Wollongong, Australia. The goal of the course was to expose Australian students to people and perspectives in current environmental conservation.
The Andaman Islands are located in the Bay of Bengal, east of the Indian Mainland and west of Myanmar. A melting pot of Asian cultures, and victim of the massive 2004 tsunami, this tropical archipelago offers a unique setting for such a field course. It is a place of tremendous ecological diversity where ecological values constantly conflict with social, political and economic interests. The aim of the course was to enable students to compare perspectives related to the developed and developing world while being challenged to apply the tools of ecological and social sciences.
Wahle, a research professor in UMaine's School of Marine Sciences (SMS) and based at the Darling Marine Center (DMC) in Walpole, was invited to participate in the two-week field course and share his expertise in fisheries ecology. He met the group of ecologists and social scientists at the field station run by the Andaman-Nicobar Environmental Team about  45 minutes from Port Blair, the archipelago's most urban center. Wahle's specific contribution was to give a global context to the fisheries and coral reef sessions of the course. They visited hot, bustling landing stations where fishermen in motorized, side-planked dug-outs called dunghies placed their catch on auction mostly for mainland markets. Sharks, skates, grouper, snapper, and spiny lobster from coastal reefs dominated the catch. Students then learned how scientists monitor and manage coral reef and mangrove ecosystems to detect and minimize the impacts fishing.  
Wahle joined the team at the invitation of Mahima Jaini of the Dakshin Foundation. Jaini received her undergraduate and master's degree from the University of Maine and spent much of her academic tenure at the DMC.  As a graduate student in Wahle's lab, Jaini's research focused on the effects of sea surface temperature, wind stress and river discharge on the interannual variability of lobster settlement in coastal Maine.
Jaini's work at the Dakshin Foundation focuses on the fishing communities of India's territorial islands. She has initiated a community-based fisheries monitoring program for the live-bait pole and line tuna fishery of India's only coral reef atolls, the Lakshadweep islands, in the Arabian Sea. She also develops education and outreach programs for Lakshadweep students and community members.
Wahle has only high praise for his former graduate student's work with island communities and the course. "I am impressed with Mahima's leadership in setting the stage for much needed monitoring of coastal marine fisheries and their impacts at a time when global demand for seafood is ever increasing," said Wahle. "Establishing marine and fishery monitoring programs is challenging anywhere, and especially in developing nations. In the Andaman Islands field sites and landing stations are remote and logistics difficult. Crocodiles are one of obstacles complicating field logistics on these islands! But the growing demand for seafood and increasing human pressure on coastal lagoons and reefs makes the need for science and conservation ever more pressing."
Hopes are that the fledgeling international collaboration will continue in the coming years. Jaini and Wahle are brainstorming with their collegues on the future of the course and ways to implement monitoring of coral reefs and fishing centers to quantify fishery impacts in Andaman Island communities.