From DMC to D.C. Oppenheim will engage with fisheries policymakers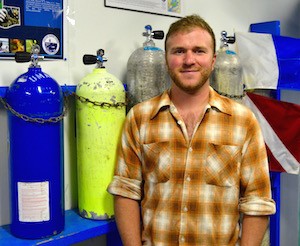 Noah Oppenheim, a graduate student at the University of Maine Darling Center in Walpole, Maine, has been awarded a Sea Grant Knauss Fellowship.
The one-year paid fellowship provides a unique educational experience to graduate students interested in ocean, coastal and Great Lakes resources, and in national policy decisions affecting those resources. It matches graduate students with hosts in the legislative and executive branches of government in the Washington, D.C. area.
Oppenheim's legislative fellowship begins in February 2016. "I am humbled and grateful for the opportunity to pursue a career in marine affairs at the federal level through the Knauss Fellowship," says Oppenheim, a candidate for the dual Master of Science degree (marine biology and marine policy).
"Growing up and studying in Maine has taught me a great deal about how people use the ocean and its resources. Midcoast has been a wonderful place to live and work these past few years. I'm excited to be able to take the lessons learned from my time here with me to Washington."
Rick Wahle, a research professor in UMaine's School of Marine Sciences, is Oppenheim's adviser. "I'm tremendously gratified to see that Noah's being recognized for his hard work," says Wahle. "He's a great fit for the Knauss Fellowship because he's eager to engage with stakeholders and policymakers in translating the findings and implications of new developments in fishery science."
Earlier this spring, the UMaine College of Natural Sciences, Forestry, and Agriculture presented Oppenheim with the George F. Dow Graduate Scholarship.
In 2012, in a scientific first, Oppenheim videotaped lobsters cannibalizing their young on the ocean floor off Pemaquid Point. His thesis research involves developing and testing forecasting tools for population trends in the American lobster fishery.
He has been supported by Maine Sea Grant and the National Science Foundation's Coastal SEES (Science, Engineering and Education for Sustainability) Program.
Oppenheim grew up in Falmouth. He graduated from Waynflete School in Portland, Maine, in 2005, the same year he became a Divemaster. During a year in college, Oppenheim studied hammerhead shark migration in the Galapagos Islands and was a crewmember on sailing vessels in the South Pacific.
After he earned a bachelor's degree in biology in 2010 from Reed College in Portland, Oregon, Oppenheim worked in the Bering Sea as a National Oceanic and Atmospheric Administration National Marine Fisheries Service groundfish observer and a deckhand on a salmon fishing vessel.
The fellowship is named after John A. Knauss, a founder of Sea Grant and a former NOAA administrator.