Register Now for 50th Anniversary Events!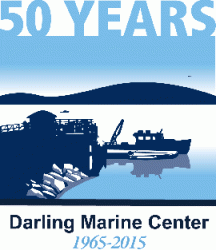 Time is running out to register for the upcoming 50th anniversary events!
If you're a member of the DMC's extended family–and we use that term broadly–please join us for Alumni Day on Thursday, August 6 and Celebration Day on Friday, August 7.
Faculty, staff and students–past and present–as well as our Orono-based colleagues and visiting researchers are all invited.
Alumni Day events include an aquaculture cruise on Damariscotta River, DMC tours, an evening lobster bake and some outstanding campfire entertainment.
Celebration Day begins at 10 am with our very own version of "Story Corps." At 3 pm we'll convene on the lower campus for a program celebrating 50 years of "research , teaching and service" and a look to the future with our new director, Dr. Heather Leslie.
Details and online registration are available here.
Please register by July 31.