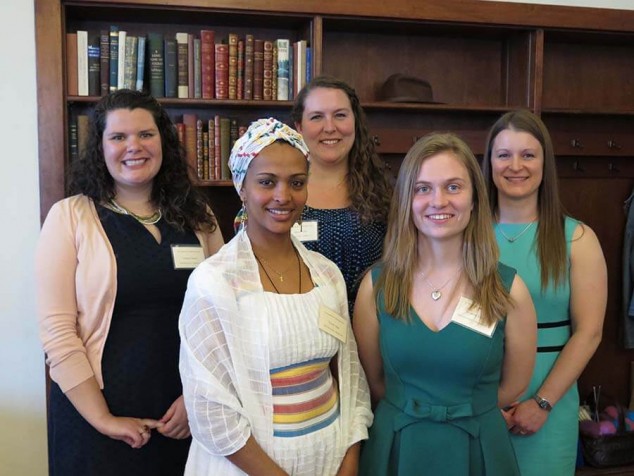 Jesica Waller Receives Edith Patch Award
Five University of Maine students have been named winners of the 2016 Edith Patch Award.
The award is given annually to undergraduate and graduate students who have demonstrated scholarship and service in the fields of science, agriculture, engineering or environmental education, and who show promise for future contribution in their field.
The award is named in honor of UMaine's first woman scientist, Edith Marion Patch (1876–1954), who was an internationally renowned entomologist, environmentalist and educator in the early 20th century. It is given by the Friends of Dr. Edith Marion Patch in celebration of her life and legacy, as well as in recognition of the accomplishments of the next generation of women at UMaine. The award ceremony and reception is co-hosted annually by the Friends of Fogler Library.
This year's winners are:
Savannah Haines, a second-year student in the School of Forest Resources;
Tizezew Sisay, a master's student in the School of Forest Resources;
Jesica Waller, a master's student in the School of Marine Resources,
Corianne Tatariw, a doctoral student in the Ecology and Environmental Sciences Program; and
Lisa Weatherly, a doctoral student in the Molecular and Biomedical Sciences Program.
As a member of the university's white pine research team, Savannah Haines has contributed to the study of fungal pathogens in white pine, offering innovative approaches to research methodology and data analysis.
She has taken a leadership role among students in the school, serving as chair of the student chapter of the Society of American Foresters and as a member of SFR student volunteers, helping to shape the undergraduate experience within the department.
Tizezew Sisay was the only woman from her state selected to attend forestry school in her native Ethiopia. After completing her diploma and an additional bachelor's degree in economics, along with service to address water access, sanitation and other environmental and economic issues in her homeland, she came to UMaine to pursue studies aimed at improving environmental conditions and the livelihoods of rural Ethiopian women.
Sisay's thesis examines the ways women have been affected by deforestation, changing agricultural practices, and related environmental degradation. Her work aims to provide information that will contribute to environmental, economic and social policies.
Sisay also has demonstrated commitment to service in Maine as a member of UMaine's African Student Association and a guide for schoolchildren exploring local forest habitats.
Waller has contributed to research on the population dynamics of one of Maine's most commercially and culturally valued marine species — the lobster.
Her thesis, "Impacts of ocean warming and acidification on larval stages of the American lobster," includes research that links environmentally induced changes in larval development, physiology and behavior, to changes in gene expression. Waller's work will help determine whether larvae have genetic mechanisms enabling them to adapt to environmental change, a critical understanding to scientists and policymakers addressing the potential impacts of and responses to climate change.
In February, Waller's photograph of a larval lobster won the People's Choice award in the 2016 National Science Foundation's Visualization Challenge, or Vizzies.
Corianne Tatariw is among the researchers contributing to UMaine's long-term study of the Bear Brook Watershed. Her work focuses on soil microbes through examining microbial response in varied land-use types, determining how nitrogen status influences response to other minerals, and how changing snowpack affects microbial communities through winter and the transition to spring.
Tatariw's findings have contributed to the work of other researchers, and her broader interest in the effects of environmental disturbance have enabled her to reach out to scientists, policymakers and members of the community concerned about changes in climate and on land.
Lisa Weatherly's research focuses on the effects of the common antibacterial agent triclosan on the function of mast cells, which are essential to most physiological processes and diseases in many species, including humans. Weatherly is a pioneer in employing the super-resolution microscopy technique FPALM, developed by UMaine physics professor Sam Hess, to investigate molecular mechanisms underlying triclosan effects.
Her analyses will contribute to scientific understanding and consumer protection policy as the U.S. government recently has called for the evaluation of triclosan use and toxicity in common antibacterial products.
In addition to the Edith Patch Award winners, five UMaine women have been named Distinguished Nominees: Randi Jackson, an undergraduate student in Wildlife, Fisheries, and Conservation Biology; Rebecca Rivernider, an undergraduate in the School of Biology and Ecology; Lisa Izzo, a master's student in Wildlife, Fisheries, and Conservation Biology; Megan Leach, a master's student in Ecology and Environmental Sciences; and Brianne DuClos, a doctoral student in Ecology and Environmental Sciences.