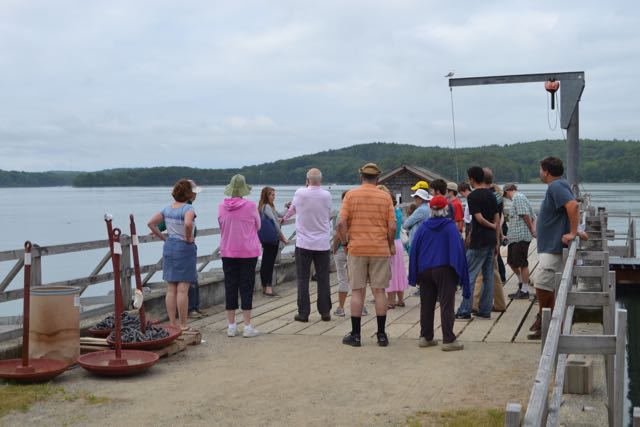 Wednesday Walking Tours – July 6 through August 17
On Wednesday mornings at 10:30am, the University of Maine's Darling Marine Center (DMC) in Walpole offers free, guided tours of its waterfront laboratories.
Your tour guide, an undergraduate student at UMaine School of Marine Sciences and summer intern at the DMC, will offer an overview of our location on the Damariscotta River estuary before leading the group through the flowing seawater laboratories where experiments are always underway.
Maine favorites, like scallops, crabs, lobster and squid, are subjects of study in the wet lab. The histology (tissue processing) lab focuses on deep sea corals from Antarctica, Alaska and the Gulf of Maine. In the aquaculture lab, visitors will learn how oysters are farmed, and see the sunny algae room where we grow their food.
Throughout the tour, scientists and other students will be on hand to discuss their research, explain its significance, and answer your questions.
No need to register; simply meet at the circle driveway at the DMC's lower, waterfront campus. Tours are free and about 90 minutes long.
Tours will be offered every Wednesday morning beginning July 6. The last tour will be on August 17.
The Darling Marine Center is located at 193 Clarks Cove Road, just seven miles from downtown Damariscotta. For more information about the DMC please visit our website dmc.umaine.edu or call 207.563.3146.