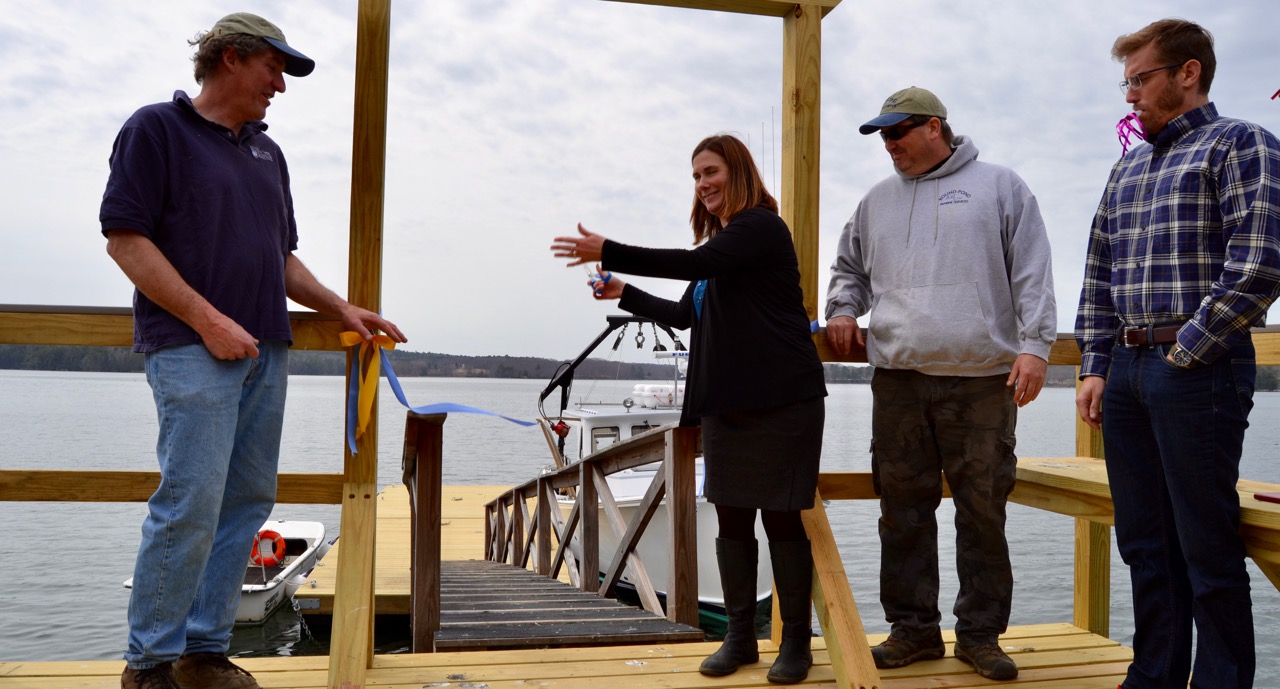 DMC celebrates the new Lowes Cove pier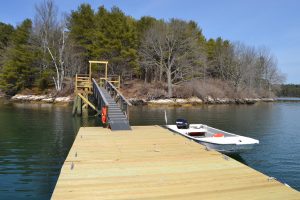 The University of Maine's Darling Marine Center community recently gathered along the shore of the Damariscotta River for a ribbon cutting ceremony at their new Lowes Cove pier. More than 50 people were in attendance.
Located on the north side of Lowes Cove, the new pier and floating docks will be used extensively by UMaine faculty, staff, and students for research, teaching, and outreach.
It will serve as a platform for citizen scientists monitoring the estuarine environment and as an outdoor classroom for K-12 field trips and UMaine courses. It also will provide ready access to the DMC's research vessels and aquaculture lease for researchers and industry partners.
Participants in the ceremony included Jamie Brinkler of Round Pond Marine Services. Brinkler and his team constructed the pier in rapid time during the winter months.
Dr. Jeff St. John, Senior Associate Provost for Academic Affairs at UMaine, and Dr. Jessica Leahy, Interim Associate Dean for Research at UMaine's College of Natural Sciences Forestry and Agriculture, traveled from the UMaine campus in Orono for the celebration. Jeff Aceto and Art Bottie from UMaine Facilities Management joined the festivities as well.
DMC Director Dr. Heather Leslie welcomed the crowd to the new pier, and acknowledged the hard work of Brinkler's team and of DMC personnel, including Tim Miller, Robbie Downs, Clint Gilbert, and Allan Spinney.
She then extended a gracious thank you to St. John and Leahy for their continued support of the DMC's academic and research programs, and acknowledged the significant investments that the University and College have made in the DMC, particularly since her arrival as Director in August 2015.
"There is no other waterfront facility with the capabilities of the DMC within 35 nautical miles," noted Leslie. "Thank you all for making it possible."
The Lowes Cove pier is the first step in a major revitalization of the DMC waterfront, to enable expanded research, education, and workforce development programs. Next steps include replacement of the DMC's main pier and upgrades to the flowing seawater system and shoreside laboratory.
The DMC has been working with local communities and businesses for the last 51 years, to develop knowledge, capacity, and new valued-added marine products that help power Maine's marine economy. To learn more about these programs and how you can help support them, please contact DMC Director Heather Leslie at heather.leslie@maine.edu or visit our website, dmc.umaine.edu.