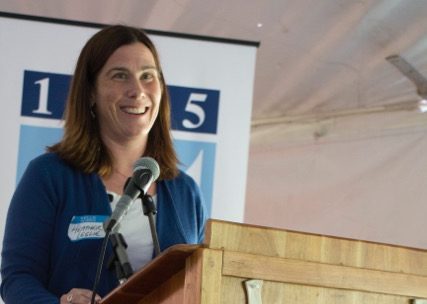 Chats with Champions – A discussion on marine resilience
Skidompha Library's "Chats with Champions" Committee and Sherman's Maine Coast Book Shop & Café are pleased to announce that Dr. Heather Leslie will be the featured speaker at 10 a.m. on Tuesday, July 25. Her presentation will take place in the library's Porter Meeting Hall. Please allow extra time for parking.
Dr. Leslie is Director of the University of Maine's Marine Laboratory, Darling Marine Center, and Libra Associate Professor of Marine Sciences in UMaine's School of Marine Sciences. Drawing on her work in both Maine and Mexico, Heather will share the emerging science of resilience and describe how it's changing how people understand and steward coastal and marine ecosystems. Dr. Leslie will also preview some of the key elements of the strategic and master plans under development for the Darling Marine Center in Walpole.
A member of the University of Maine faculty since August 2015, Heather Leslie received an A.B. from Harvard University, a PhD. in zoology from Oregon State University, and conducted postdoctoral research at Princeton University. Before arriving at UMaine, she was on the faculty at Brown University as the inaugural Peggy and Henry D. Sharpe Assistant Professor. She is a Leopold Leadership Fellow. Originally from Plymouth, Massachusetts, Heather lives by the Damariscotta River in Newcastle with her two children and husband, microbial ecologist Jeremy Rich.
Heather is an international leader in marine conservation science. She conducts research on the ecology, policy and management of coastal marine ecosystems. Dr. Leslie studies and teaches about the causes and consequences of environmental change in marine systems, and how to more effectively connect science to policy and management.
Chats with Champions is a free community offering from your national award winning Skidompha Library and is sponsored by Sherman's Maine Coast Book Shop. For more information call 563-5513.