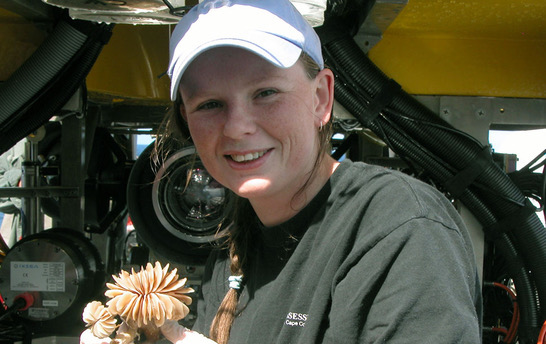 Cold-water corals in the Gulf of Maine are the focus of DMC seminar
On Friday, August 11, Dr. Rhian Waller will conclude the DMC's summer science seminar series with a talk on cold-water corals of the Gulf of Maine. This series featured renowned scientists in the field of marine biology engaged the public in topics ranging from the studies of the aquaculture in Maine to the exploration of the deep sea.
Cold-water corals occur from the deepest depths of our oceans to the shallow waters of the polar seas. Yet our understanding of the biogeography, biology and ecology of these mysterious creatures is very much in infancy. Did you know that nearly a dozen species of cold-water occur in the Gulf of Maine?
This talk will cover the basics of what cold-water corals are, how humans are influencing is these deep-sea communities and what the very bottom of the Gulf of Maine looks like.
Waller is a faculty member at the University of Maine School of Marine Sciences. Her research interests center on the reproduction and development of cold-water and deep-sea invertebrates from around the globe. With projects from the Arctic to the Antarctic, Waller studies and how cold-water corals are affected by both natural and anthropogenic environmental change.
The seminar will take place in Brooke Hall at the University of Maine's Darling Marine Center beginning at 10:30 a.m. The event is free and open to the public, but registration is requested at tinyurl.com/y87uxsmw. For a disability accommodation, please call 207.563.3146.
Contact: Aliya Uteuova, aliya.uteuova@maine.edu