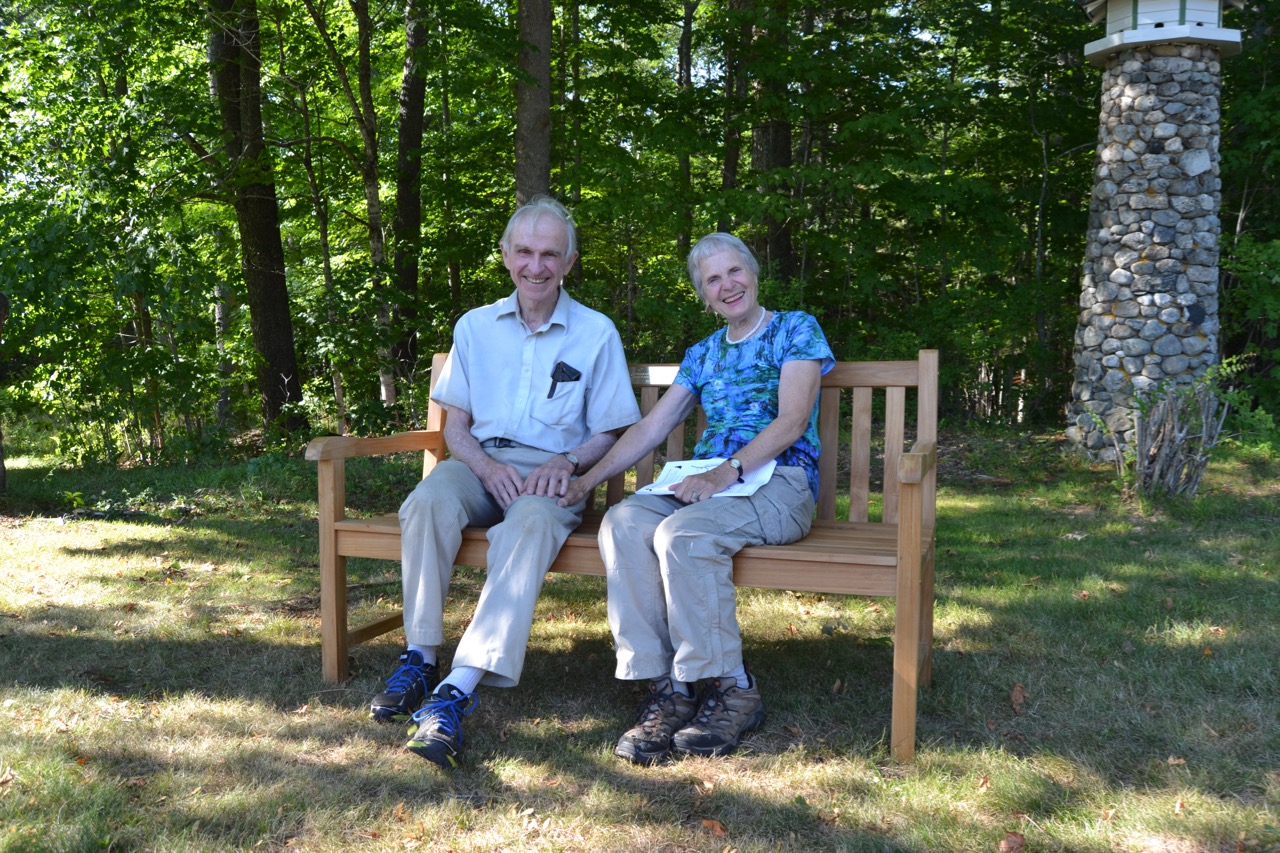 DMC Honors Veteran Volunteer, Elsie Morse
Elsie Morse was honored recently with the dedication of a special teak bench at the University of Maine's Darling Marine Center.
"Elsie has dedicated countless hours to the Darling Center, and we are tremendously grateful" noted DMC Director Dr. Heather Leslie. "Thanks to Elsie, we have a deeper appreciation and access to the natural history and beauty of the woods, fields, and wetlands of the campus. This bench celebrates all that Elsie has done for the Darling Center. We look forward to welcoming her back, next summer."
Elsie and her husband, Dr. Douglass Morse, Professor Emeritus at Brown University, have summered on the Pemaquid peninsula for more than 25 years. During that time, Doug has conducted elegant ecological studies on the plans and insects of the old fields and shoreside woodlands throughout the peninsula, with the help of Elsie and long line of Brown undergraduates. When Elsie isn't helping with the research, she is deeply involved with community organizations, including the Damariscotta River Association and Pemaquid Watershed Association in addition to the DMC.
The Morses have been summer researchers at the DMC for over 20 years. In that time Elsie has made herself an invaluable and welcome part of the community.
"We all look forward to Elsie's arrival each June," says Linda Healy, Programs Manager at the DMC. "It means summer is here!"
Over the years Elsie has led summer tours, mothered undergraduate interns, and buoyed the moral of everyone on campus. Most notable however is the three and half mile network of walking trials that she created on the DMC property.
From scouting out the most interesting forest features and finding a pleasant path along the river's edge, to cutting, blazing, and maintaining the trails, Elsie has done it all. Many a hiker has come upon Elsie deep in the forest, in the midst of a trail project. And when she needs help, Darling Center staff, students, and visitors are out there with her. DMC trails exist because of Elsie.
For this and much more, the DMC community says, "Thank you, Elsie!"
If you've yet to discover Picnic Point or the Coveside Trail, please visit the DMC. Trail maps are available at the Visitors Station in the Horse Barn and at the trail kiosks on both the upper and lower parts of the campus.
Contact: Linda Healy, lhealy@maine.edu