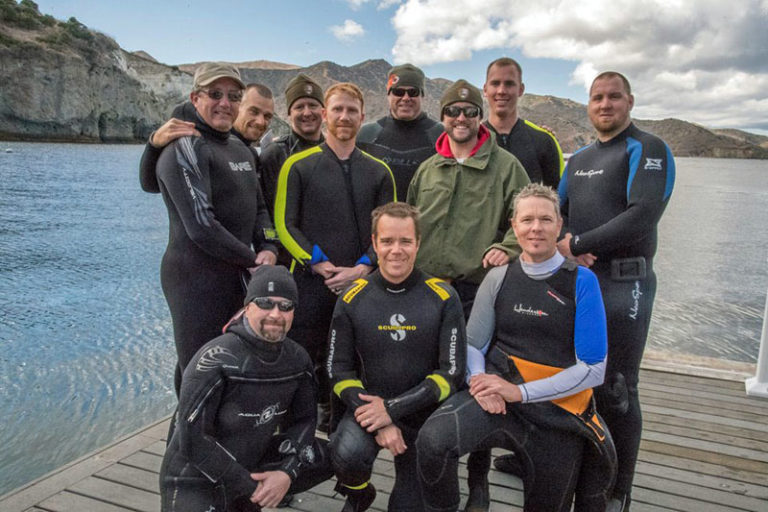 UMaine Instructor Teaches for National Park Service
Christopher Rigaud, University of Maine's diving operations manager, traveled to Catalina Island, CA, as one of four instructors for a two-week Dive Leadership Workshop at the University of Southern California's Wrigley Institute for Environmental Sciences last month.
Based at the Darling Marine Center in Walpole, Rigaud conducts diver training, dive support, and operational supervision for all University of Maine System scientific diving operations. He also serves on the Board of Directors of the American Academy of Underwater Sciences (AAUS), and the Diving Control Board of the US Antarctic Program.
Offered every two years, the workshop – which was designed by and for the National Park Service (NPS) – trains NPS dive staff to become Diving Officers and Diving Examiners. These individuals then return to their parks throughout the country, to supervise diving operations and train other NPS divers and park visitors.
Rigaud has been involved in the workshop since 2014 when Steven Sellers, NPS national diving safety officer, invited him to join the team of respected and highly skilled divers to develop the training curriculum. This year's course included over 38 hours of in-water training and 45 hours of classroom instruction.
Participating in the development and implementation of the NPS Dive Leader program has been "a true honor" says Rigaud. "I am humbled to serve as instructional staff in this group of diving professionals for whom I have the greatest respect."
Rigaud's participation in the program and interaction with the NPS staff and divers from around the country has provided national attention for UMaine and our Scientific Diving Program, and helped to promote our reputation as a leader in the field.
"I enjoyed the opportunity to live, work, and dive on the special and unique place that is Catalina Island, CA," noted Rigaud. While on the island, he met up with former UMaine student and scientific diver Kathy Miller, who now lives on Catalina Island and works at the Catalina Island Marine Institute.
Though most UMaine diving is based at the Darling Marine Center, UMaine scientific divers conduct underwater research around the state and nation, and worldwide in Australia, the Caribbean, the Arctic, and other regions.
Scientific diving requires a level of proficiency and skill much greater than typical recreational diving.  UMaine offers scientific diver training twice annually, as SMS 324: Introduction to Research Diving. A detailed description of this three-credit, UMaine accredited course can accessed from a link on the DMC's homepage, dmc.umaine.edu.