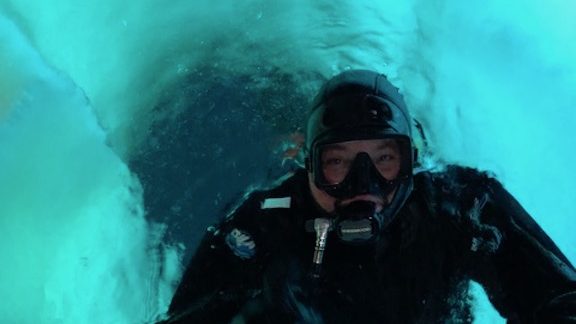 Snow Date Feb. 20! Talk on the US Antarctic Diving Program
Due the forecasted snow storm, this event has been rescheduled to Wednesday, February 20 at 12:00 p.m.
On Wednesday, February 13, the University of Maine's Darling Marine Center will host a brown-bag seminar by Christopher Rigaud that provides an inside look at the U.S. Antarctic Diving Program.
Established in 1959 by the National Science Foundation, the U.S. Antarctic Program oversees the research and logistical support of three research stations on the continent: McMurdo Station, Amundsen-Scott South Pole Station and Palmer Station. One very important part of this mission is the Scientific Diving Program that facilitates safe underwater research in extreme polar conditions.
Rigaud is the Diving Operations Manager for UMaine and serves on the Scientific Diving Control Board of the Antarctic dive program. He recently traveled to McMurdo Station to get a better understanding of both the program itself and the environmental demands placed on scientific divers.
The DMC is located at 193 Clarks Cove Road in Walpole, and the talk will take place at noon in Brooke Hall on the lower waterfront campus. Please bring your own brown bag lunch. For a reasonable disability accommodation, please call 207.563.3146.