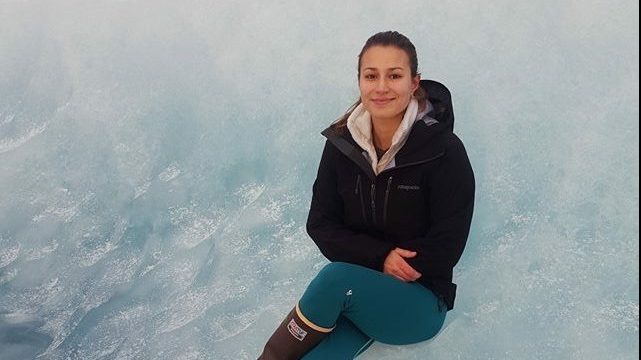 Cold-water coral research leads to master's degree
For the last two years, Elise Hartill has studied the coral communities of Glacier Bay National Park and Preserve in Alaska. The work culminated this spring when she was awarded a master's degree in marine biology from the University of Maine's School of Marine Sciences.

Working with Dr. Rhian Waller at the university's Darling Marine Center in Walpole, Hartill studied the sea floor communities of Glacier Bay. Using survey data collected in 2016, she examined how the communities differed with proximity to glaciers.

At the center of this research was the red tree coral (Primnoa pacifica), which can grow several meters in height and live to be more than a hundred years old. The coral provides habitat for invertebrate and vertebrate species, especially for economically important species like rockfish as well as Tanner and King Crab.

Larger corals and a greater abundance of invertebrate and fish species were found in the sea floor communities furthest from the glaciers. "Glaciers can be a significant source of sediment and freshwater runoff, which affect how marine organisms survive," said Hartill, "and this may explain why the coral communities near glaciers were less diverse than those far from glaciers."

The research has important implications. "What we learn about corals in GBNPP can help us understand how they reproduce and colonize new areas and how resilient they are to disturbances," explains Hartill. "This in turn will help inform fisheries management decisions."

"Elise's work provides the first detailed analysis of fragile cold-water coral communities in one of our nation's national parks, and although the work took place in Alaska, it's applicable to other fjord and cold water ecosystems around the world, including those we have in the Gulf of Maine," said Waller, associate professor of marine science.

The research was a collaborative effort with the National Park Service and was funded by the US National Oceanic and Atmospheric Administration (NOAA) Office of Ocean. The research is captured on this NOAA website: oceanexplorer.noaa.gov/explorations/16glacierbay/welcome.html

With funding by a National Geographic Early Career Grant, Hartill will continue working for Glacier Bay National Park and Preserve. Using the data collected and results produced from the expedition she will help develop lesson plans for the GBNPP's "Middle School Scientist" project. She will also curate an exhibit for the Park's Visitor Center using the discoveries of the expedition to showcase the extraordinary marine life in Glacier Bay.