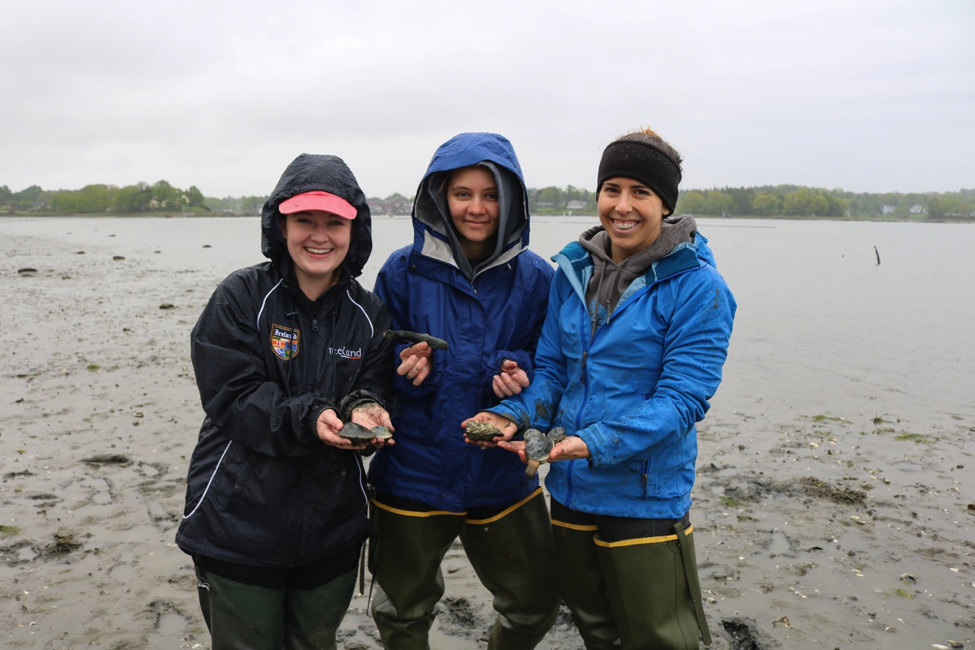 DMC invites harvesters to take part in shellfish project
Scientists at the University of Maine Darling Marine Center invite current and past shellfish license-holders to participate in shellfish surveys in July on Damariscotta tidal flats. These surveys will help inform future stewardship of the shellfish resources managed jointly by the towns of Damariscotta and Newcastle.
The survey team, which is led by Kara Pellowe, a researcher at the DMC, is gathering data during the low tides in order to assess the abundance, composition and size of soft-shell clams and other shellfish harvested in this area.
"Our flats support a variety of shellfish, including softshell clams, quahogs, razor clams, blue mussels, American oysters and European oysters," Pellowe observed.
Survey participants will be paid $100 per day, for hands-on assistance on select dates: July 5-12, July 18-19 and July 23-26.
This research is a part of a project led by the Town of Damariscotta and is entitled 'An assessment of shellfish resources for coastal resilience and management: Documenting historical and current trends in the Damariscotta and Sheepscot River tidewater flats.'
Town Manager Matt Lutkus submitted a proposal to the Broad Reach Fund in January 2019 on behalf of the Damariscotta/Newcastle Joint Shellfish Committee. The town was awarded $13,173 to conduct the work, which is being matched with in kind contributions from shellfish committee members and other volunteers, the town of Damariscotta and the University of Maine.
The project is one of 15 statewide, thanks to a collaborative initiative involving the Broad Reach Fund of the Maine Community Foundation, the Maine Shellfish Advisory Council, the University of Maine's Department of Communication and Journalism and Senator George J. Mitchell Center for Sustainability Solutions. More information on the initiative is available at the Maine Shellfish Restoration and Resilience Project website.
Local harvesters have recently noted interannual fluctuations in shellfish resources. Without the wherewithal to conduct population surveys, the Shellfish Committee and the towns of Damariscotta and Newcastle have had to update shellfish management without critical scientific data. This summer's surveys are a step towards filling data gap, to inform development of strategies that enhance productivity of the wild shellfish resource and coastal community resilience more broadly.
Lutkus noted, "This collaborative project is gathering some of the first data on the health of these populations and will hopefully contribute to more proactive management in the future. I'm looking forward to learning of the team's results."
DMC researchers also invite current or past shellfish harvesters to take part in 30-minute interviews about their experiences, knowledge and concerns related to the area's shellfish resources. Information gathered during these conversations will be integrated with the biological survey data and presented to the towns' joint shellfish committee in the early fall. For more information or to volunteer, contact Pellowe at 303.895.7674.