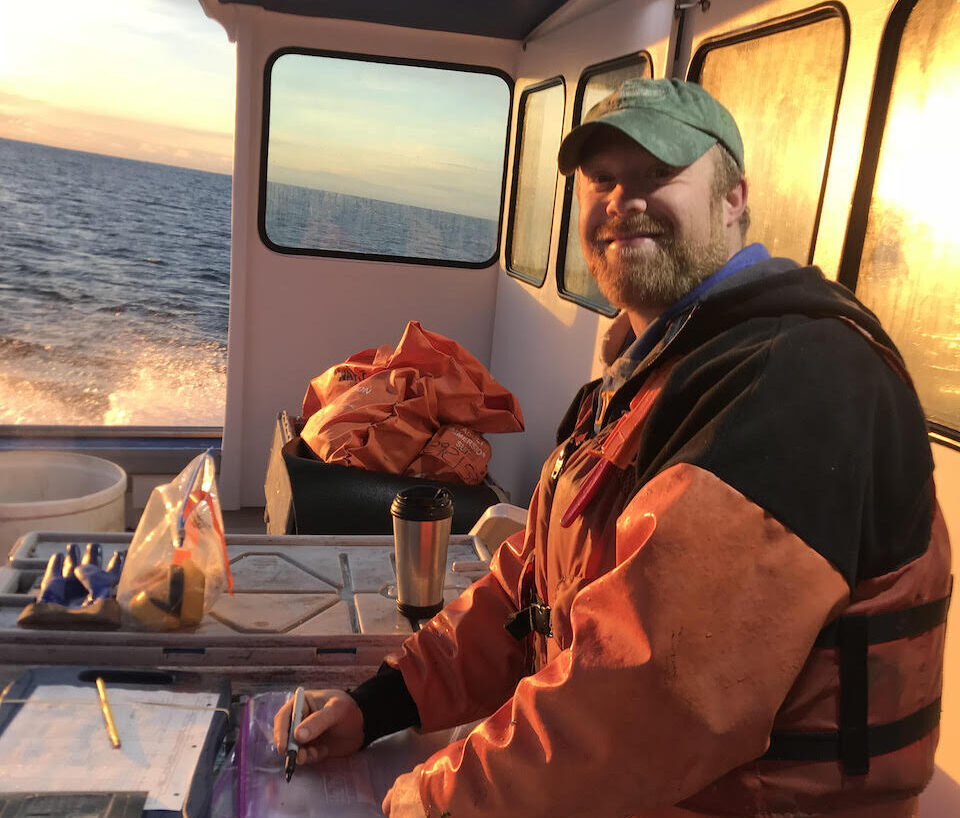 Huntsberger earns master's degree for research exploring growth, aging of Jonah crabs
Carl Huntsberger, who for three years studied the challenge of crustacean age determination, earned a Master of Science in marine biology at the University of Maine.
Huntsberger grew up lobstering on the coast of Maine. After completing his bachelor's degree in marine science at Roger Williams University in 2012, he worked at a nonprofit research lab on Cape Cod, conducting seasonal surveys on commercial scallop boats.
"The Maine coastal fishing community is very important to me," he says. "I'm collecting needed fisheries data to fill information gaps in fisheries management."
Determining the age of crustaceans has been a long-standing challenge in biology. Unlike mollusks and fishes that accumulate a record of age as growth bands in their shells and bones, crustaceans shed their external skeleton with every molt.
Huntsberger worked with a team of scientists from UMaine, Bates College and the University of New Brunswick, Canada. The team was led by Dr. Richard Wahle, a research professor in UMaine's School of Marine Sciences and director of the Lobster Institute, based at the Darling Marine Center in Walpole.
Huntsberger's research has broadened scientific insight into the growth and aging process in lobsters and crabs. He utilizes a recently developed method using the gastric mill, a set of grinding teeth found inside the crustacean foregut. Slicing the gastric mill into sections reveals a banding pattern that, much like tree rings, corresponds to their age.
For his thesis research, Huntsberger applied this method to the Jonah crab (Cancer borealis), which is widely harvested in coastal New England and Atlantic Canada. His thesis represents the first comprehensive study to put the gastric mill aging method to the test against other traditional methods, and confirms that gastric mill bands accumulate yearly in Jonah crabs.
Jonah crabs are an ecologically and economically important species in New England and Atlantic Canada. Growing demand and rising landings have heightened awareness of the lack of biological information on this species.
Huntsberger's research is important because it gives fishery scientists a new tool to use in stock assessments that evaluate the sustainability of the fishery. Knowing how old crabs are when they reach harvestable size and when they mature are key elements of understanding their populations.
"Carl's work makes important new inroads to our understanding of the challenge of aging crustaceans," says Wahle. "His research is getting the attention of fishery scientists managing the lobster and Jonah crab fisheries of New England and Atlantic Canada who need to use this information to understand the population dynamics and ecology of these commercially important species."
Huntsberger would like to continue to work as a fishery biologist in a government marine resource agency, supplying biological information for fisheries management.
This research was supported by a UMaine graduate fellowship awarded to Huntsberger, as well as by research grants from Maine Department of Marine Resources and Maine Sea Grant led by his advisor.
Founded in 1965, the Darling Marine Center's mission is to connect people to the ocean. The center's researchers, staff and students work alongside fishermen, aquaculture entrepreneurs, marine industry professionals and other members of the community in Maine and around the world. More information is available at dmc.umaine.edu