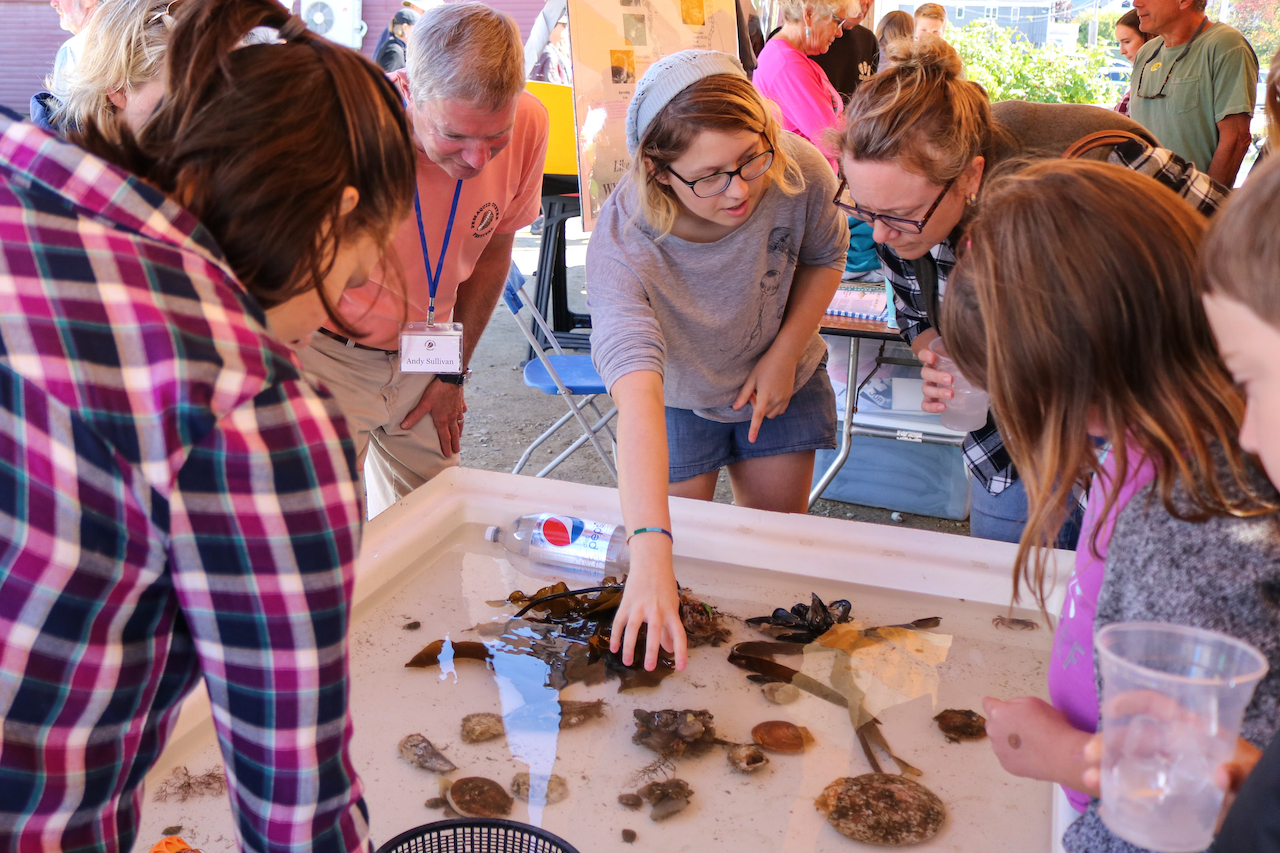 Semester By the Sea students take touch tank to Pemaquid Oyster Festival 
University of Maine Semester by the Sea students from the Darling Marine Center ran the touch tank Sept. 29 at the Pemaquid Oyster Festival.
The Pemaquid Oyster Company and Schooner Landing Restaurant host the annual festival in Damariscotta at the restaurant's Main Street location. The free festival includes educational exhibits, vendors, music and plenty of oysters. And each year, the SBS volunteers from the DMC bring the touch tank to the festival.
"I really like figuring out how to translate my knowledge of marine science," says Brynn Yarbrough, a UMaine senior marine science student.
"It's a good thing for this to be part of SBS; it's important for a scientist to be able to explain things to a member of the public."
SBS is a University of Maine hands-on, field-oriented residential program of the School of Marine Sciences based at the DMC in Walpole. It's geared to prepare students for a career and/or to pursue an advanced degree in marine and environmental sciences.
Participants have a choice of unique courses in marine ecology, scientific diving, fisheries science, microbiology and oceanography, among others. Lectures, labs and field trips are scheduled around the tides.
While many students are from UMaine, scholars from other institutions are welcome. This year, two students from China are enrolled.
At the festival Sunday, SBS students shared information about a number of coastal critters, including lobsters, horseshoe crabs, scallops, oysters and sponges.
Festival-goers asked a lot of questions about lobster size and age. The lobsters in the touch tank were much smaller than market-size lobster, and visitors were excited to see the young crustaceans.
Volunteering at the Pemaquid Oyster Festival is one of the many engagement opportunities available to SBS students. Participation is part of the undergraduate professional development seminar that helps students prepare for the future.
Look for SBS students in the InfoZone at the Damariscotta Pumpkinfest from 9 a.m. to 4 p.m. Oct. 12.
Founded in 1965, the Darling Marine Center's mission is to connect people to the ocean. The center's researchers, staff and students work alongside fishermen, aquaculture entrepreneurs, marine industry professionals and other members of the community in Maine and around the world. More information is available at dmc.umaine.edu