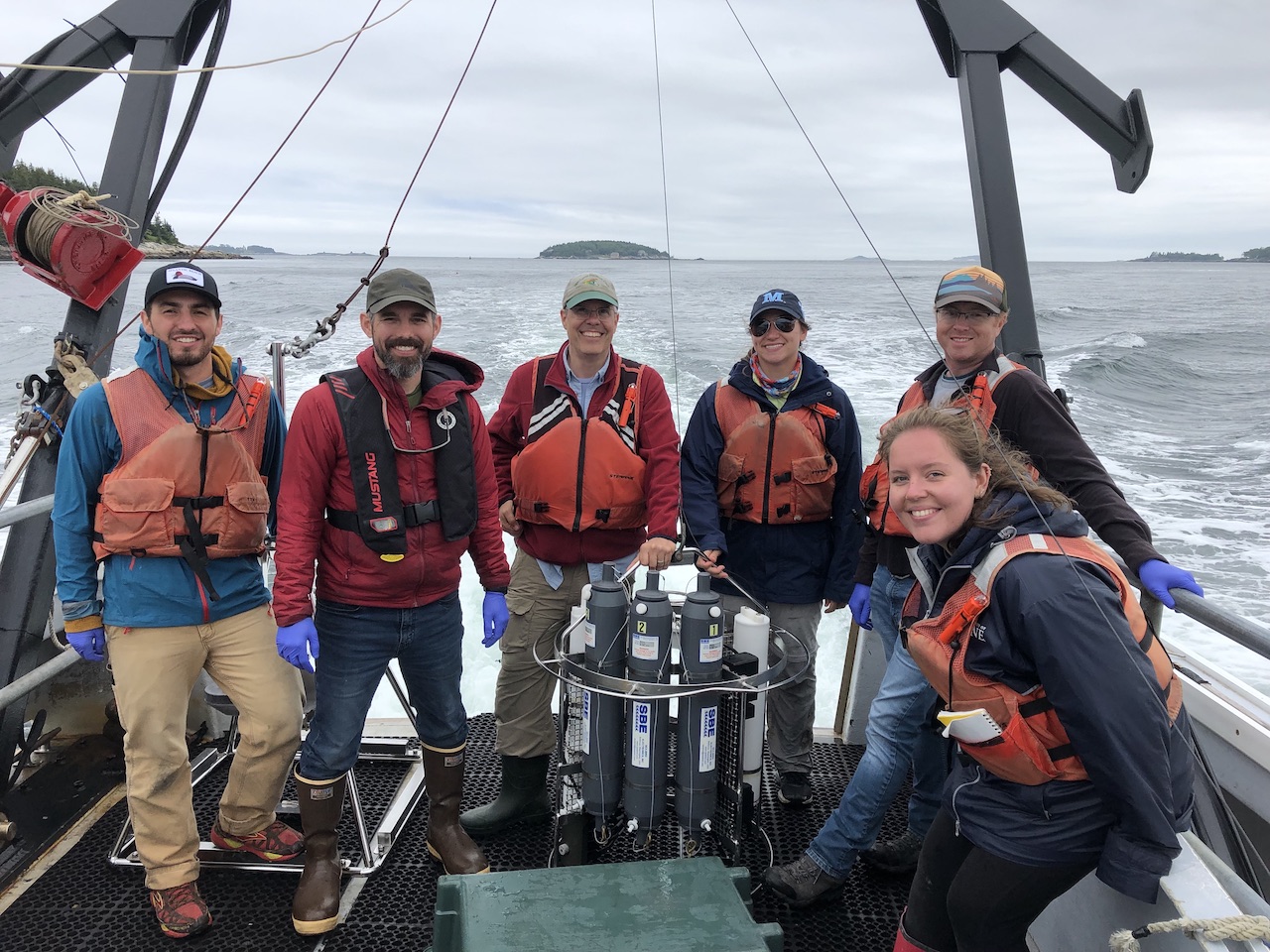 New project strengthens partnership between DMC, Bigelow Laboratory
Heather Leslie and Deborah Bronk lead scientific institutions that are advancing and collaborating on cutting-edge marine research from opposite sides of the Damariscotta River.
Leslie, director of the University of Maine Darling Marine Center (DMC), and Bronk, president and CEO of Bigelow Laboratory for Ocean Sciences, regularly look for opportunities to strengthen the longstanding partnership between the institutions. This effort will be enhanced by a new $20 million research and education collaboration that the institutions are leading, called Maine eDNA. This project, funded by the US National Science Foundation, takes advantage of new breakthroughs in DNA technologies that allow researchers to identify organisms based on how their DNA is distributed in the water. The ultimate goal of this 'forensics for the ocean' is to better track the health of Maine's fisheries and coastal ecosystems.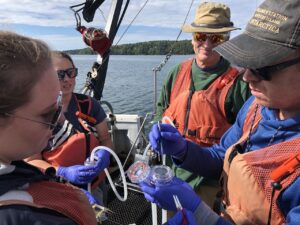 "It's fantastic to have an experienced leader like Debbie just across the river," Leslie said. "I'm excited about the collaborations that we've catalyzed through this new project."
Bronk began at Bigelow Laboratory in 2018, following her role as department chair at the Virginia Institute of Marine Science. She quickly forged a close partnership with Leslie, so that they could strategize how best to deploy and enhance Maine's substantial marine science capacity.
"We have a collaborative style, and we do what we can to help each other," Bronk said. "Both institutes have unique strengths and resources, and we get more done for Maine and for the ocean when we work together."
The DMC is located in Walpole, and Bigelow Laboratory is in East Boothbay. Scientists often connect for research and educational purposes via a short boat ride across the Damariscotta River.
The institutions are among the few facilities in Maine with certified scientific diving programs, a resource that will play a key role in the eDNA project. Scientists will conduct research above and below the water to understand the factors that influence the health of Maine's fisheries and coastal ecosystems.
"Bigelow Laboratory's Dive Safety Officer and I have a good relationship and stand ready to provide backup for each other in the event we need equipment or training resources, or if one of us becomes injured or ill," said UMaine Diving Safety Officer Chris Rigaud. "Scientific diving is, by nature, a collaborative and team endeavor, and our scientific divers have worked with each other on projects for both institutions."
The eDNA project is one example of how DMC and Bigelow Laboratory researchers, students and community partners benefit from the close connections among scientists who share a passion for ocean science.
Rick Wahle, a research professor in UMaine's School of Marine Sciences and director of the University's Lobster Institute, is one of the many DMC-based marine scientists with an extensive history with Bigelow Laboratory.
His collaborations began in the 1980s when he was a graduate student at UMaine. Then from 1995 until 2009, Wahle was a senior research scientist at Bigelow Laboratory, where he co-advised graduate students and conducted joint research with scientists around the world.
Now Wahle's back at the DMC and continues to collaborate with scientists on both sides of the river. For the Maine eDNA collaboration, Wahle, Leslie and their colleagues and students will work closely with numerous Bigelow Laboratory senior research scientists. They will collaborate with Nichole Price to utilize eDNA collected from water samples to understand how larval lobsters and scallops move, and with Pete Countway and David Fields to gain new insight into the diets of larval lobsters.  These important commercial species ultimately reflect the health of Maine fisheries and fishing communities.
Researchers at both institutions say it is essential for the two labs to coordinate in order to best apply complementary expertise to address coastal issues in Maine, as well as share important skill sets with future marine scientists.
"Maine is facing complex issues that are multidisciplinary," said Douglas Rasher, an eDNA project collaborator and a senior research scientist at Bigelow Laboratory. "Both institutions have a desire to find solutions to societal challenges, and by teaming up we can actually do that."
Rasher has a long-running relationship with the DMC. As an undergraduate, Rasher interned with Wahle, then took a postdoctoral position with Bob Steneck at the DMC. Now, he's a Bigelow Laboratory scientist and DMC collaborator.
For the eDNA project, Rasher will document shifts in species' geographic ranges as a result of climate change. And he'll seek to explain why the shifts are happening. This work includes multiple scientists from UMaine and Bigelow Laboratory, as well as graduate and undergraduate students.
The eDNA project will also focus on the critical microscopic life in coastal Maine waters and has sparked new collaborations between the two labs. At Bigelow Laboratory, Dave Emerson, one of the eDNA project's scientific leaders, uses molecular tools to investigate the diversity of microbial life in the ocean. At the DMC, Jeremy Rich leads a team focused on nitrogen cycling microbes in estuarine and offshore ocean sediments.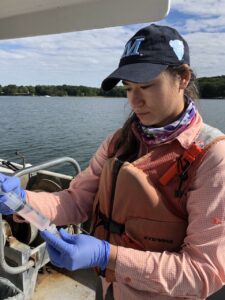 Last summer and earlier this fall, Emerson and Rich led the first two expeditions connected with the eDNA project — sampling water in the Damariscotta River and Damariscotta Lake.
Rachel Presley, Rich's graduate student, collected samples from the sediment and water in the lake and estuary. Her role in the project is building her network of scientists at Bigelow Laboratory and beyond, and training her in areas outside her expertise. She said she values the collaboration with Bigelow Laboratory and the sharing of resources and ideas.
"Once we get the data, each respective group can look at the DNA from the samples they're interested in," she said.
Maine eDNA will continue to grow understanding of Maine's coastal ecosystems during the next five years, and continue to enhance the connection between the DMC and Bigelow Laboratory.
"I am looking forward to working with Debbie and our colleagues to find new ways in the future to grow the research and education partnerships between our two labs," Leslie said.
Founded in 1965, the Darling Marine Center's mission is to connect people to the ocean. The center's researchers, staff and students work alongside fishermen, aquaculture entrepreneurs, marine industry professionals and other members of the community in Maine and around the world. More information is available at dmc.umaine.edu
Bigelow Laboratory for Ocean Sciences is an independent, nonprofit research institute located in East Boothbay, Maine. From the Arctic to the Antarctic, Bigelow Laboratory scientists use cutting-edge techniques to understand the ocean's mysteries, address its challenges, and unlock its hidden opportunities. Learn more at bigelow.org, and join the conversation on Facebook, Instagram, and Twitter.