Darling Marine Center Welcomes Assistant Professor of Chemical Oceanography
The University of Maine's Darling Marine Center in Walpole recently welcomed Dr. Meg Estapa, Libra Assistant Professor of Chemical Oceanography in UMaine's School of Marine Sciences.
Estapa comes to the center from Skidmore College in Saratoga Springs, New York where she was Assistant Professor of Geosciences. However, this isn't Estapa's first time calling midcoast Maine home. Estapa spent four years working at the DMC as a graduate student. She earned her Ph.D. in Oceanography with Dr. Lawrence Mayer and Dr. Emmanuel Boss, with a thesis focused on how sunlight breaks down chemicals in the suspended particles found in muddy rivers and coastal ocean water.
"As a chemical oceanographer, my interests are in how carbon cycles through the ocean. This means I spend a lot of time also thinking about ocean biology and physics, with a little bit of engineering sprinkled in for good measure," says Estapa.  "This is my favorite thing about oceanography — it forces you to think broadly and to collaborate with other disciplines."
Prior to accepting the position at UMaine, Estapa worked as an assistant scientist on a ship-based education program with the Sea Education Association. After earning a Ph.D. at UMaine, Estapa was a postdoctoral scholar at Woods Hole Oceanographic Institution, before her position at Skidmore College.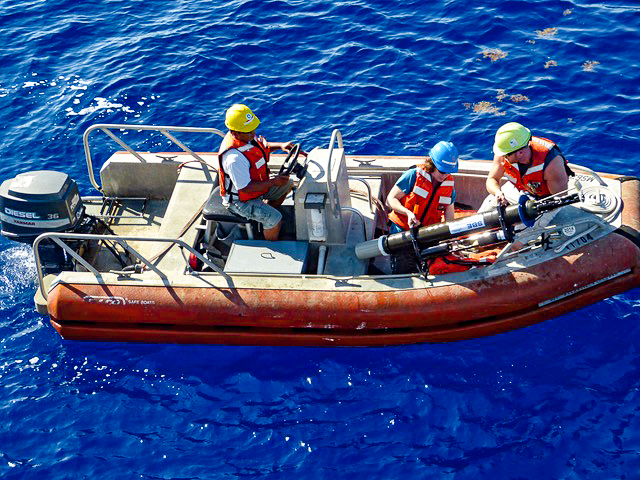 Estapa shared that she is "interested in understanding how the changing physical conditions in the Gulf of Maine could impact the biological carbon cycle, which in turn plays a role in ocean acidification and fisheries in the Gulf of Maine.  The ocean's biological carbon cycle also interacts with the global climate. Understanding it will help us better predict what changes may occur in the future."
"Meg will be a great addition to the DMC's team of resident and affiliated UMaine faculty," says DMC director Heather Leslie. " Her research experience with the open ocean, as well as nearshore ecosystems, is a fit for our marine laboratory. Meg is thinking about how global processes – like changing ocean biology and chemistry – intersect with patterns of marine pollution and coastal acidification. She will be an important resource for our students and community members as we navigate the changing dynamics of our ocean, here in Maine and globally."
"My time here as a grad student showed me that midcoast Maine is a great place to live," said Estapa. "I am looking forward to building a fun, supportive, productive research group,  and teaching students of all levels that come to the DMC, as well as getting to know my new community!"