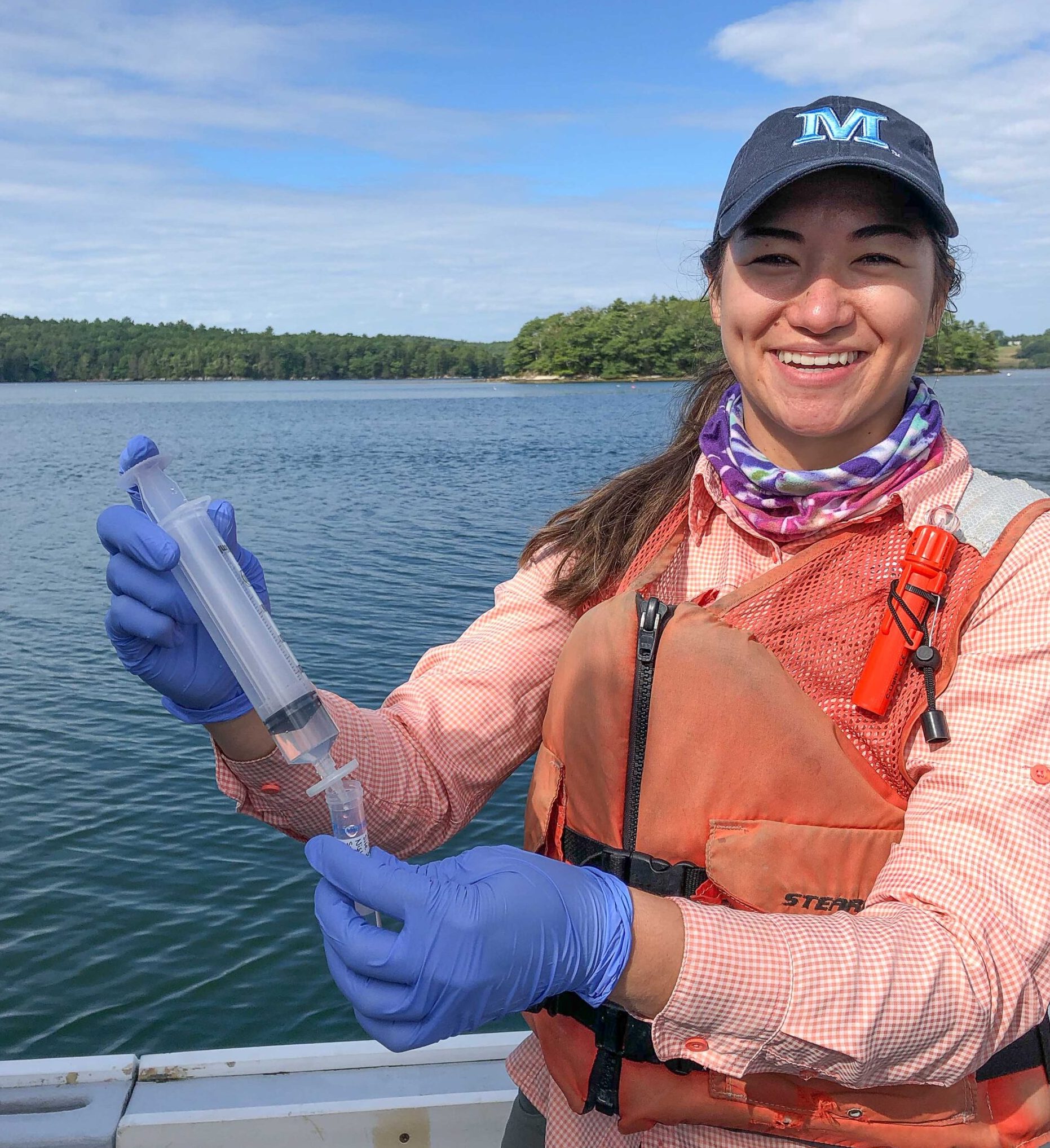 Shoreline Science Talks Begin at Darling Marine Center
This week University of Maine Darling Marine Center will host the first of four shoreline science talks on their Walpole campus. Each week at 11:00 a.m. up to 15 participants will have the opportunity to learn about the local and global impacts of research that DMC-based scientists and students conduct.
This Friday, July 16, graduate students Struan Coleman and Tom Kiffney will discuss 'The Future of Farmed Shellfish." In this shoreside presentation, they will share the work that they are doing with aquaculture professionals throughout the state. Following the talk, there will be time for discussion and a brief tour of the DMC's newly renovated waterfront facilities.
As Coleman observed, "aquaculture has potential to sustainably increase domestic production of seafood and prevent the worst consequences of climate change from impacting coastal communities. Our work aims to better understand aquaculture site selection and production techniques to ensure that the expansion of the industry benefits both new growers and those that already work on the water."
On July 23, graduate student Sarah Risley will present the work she is leading in collaboration with the town of Damariscotta, Lincoln Academy and other community partners on "Community Science and Stewardship in Maine Estuaries." Risley's research and education activities are supporting local shellfish management using a unique blend of natural and social science approaches, while providing opportunities for local students to get involved in science and stewardship in the Damariscotta River estuary.
On July 30, graduate student Alex Asher will present on "Lobster Larvae and Our Changing Climate." When asked about his research Alex shared "my work focuses on trying to understand why some larvae survive to recruit successfully, and others do not. Studying a process which involves small planktonic larvae which are spread throughout the ocean requires a lot of creativity and collaboration in how we approach our research."
Finally, on Friday, August 6, graduate student Rachel Presley will present on "Hidden Biodiversity: Microbes in the Damariscotta River Estuary." Presley's work is part of the Maine eDNA project, a statewide collaboration led by scientists at UMaine and Bigelow Laboratory for Ocean Science. Her research focuses on the tiny organisms that live in the mud and water of Damariscotta Lake and Damariscotta River estuary. "I want to know which microbes are present and where, how they make a living, and how that affects the environment," Presley explained. "I think it is interesting how these small organisms have a large impact on the environment, which affects us as humans."
These events are free but tickets are required. Visit dmc.umaine.edu to learn more and to request tickets.
Founded in 1965, the Darling Marine Center's mission is to connect people to the ocean. The Center's researchers, staff and students work alongside fishermen, aquaculture entrepreneurs, marine industry professionals and other members of the community in Maine and around the world. More information is available at dmc.umaine.edu