Bootcamp 2017
NFA 117: Issue and Opportunities in Marine Science – Class Field Trip Schedule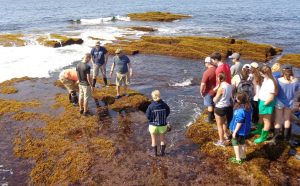 August 22-25, 2017
Course Instructor: Dr. William Ellis
Field trip co-leader: Dr. Rhian Waller
Tuesday, August 22 – Plan to arrive around 11am and move your belongings into your dorm room. Dorm rooms will be open until noon. Have lunch with your parents, say goodbye, and meet at the School of Marine Sciences in Aubert Hall at 12:45pm. Afternoon activities include "Discover Scuba," tour of the Buoy Barn, and talks by School of Marine Sciences faculty. After a pizza dinner we'll board a bus to the Darling Marine Center (DMC) in Walpole, ME.
Wednesday, August 23 – The tides dictate an early start! We'll have a hot breakfast at 6am and catch low tide at the rocky intertidal. Back at the DMC we'll learn about the perils facing coralline algae on the Aleutian Islands, and shellfish aquaculture. After lunch we'll explore the Damariscotta River Estuary by kayak. The evening will be capped off with a campfire at the waterfront.
Thursday, August 24 – A morning trip to the mudflats starts the day. We'll spend time with some invertebrates in the classroom and then go seining for fish. Later in the day we'll travel to some local landmarks and attractions.
Friday, August 25 – After breakfast we'll take the bus back to Orono. We will arrive by 12 noon for Maine Hello.
---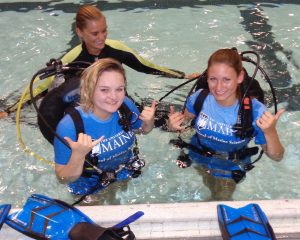 Cost – The NFA 117 field trip costs $300. Please include a check, made payable to the University of Maine, with your completed forms, see below.
What to do next –

Complete this online Information/Room & Board/Emergency Contact form.
Print and complete these forms:
• Liabilty form Seaspray Kayaking
• Discover Scuba Forms. This one PDF includes three forms: Medical History, Medical Statement/Physician Approval, and PADI Liability Release.
• UMaine Media Release Form
Return the forms and your $300 payment to Jodie by

July 17, 2017

to:
Jodie Feero
School of Marine Sciences
University of Maine
5706 Aubert Hall, Room 360
Orono, Maine 04469-5706
---
What to Bring
– Activities will happen rain or shine. Cross your fingers for good weather, but come prepared for anything! Here are a few things we recommend:
• Sunscreen and a hat
• Raincoat (can double as a wind breaker) and fleece jacket
• The mudflats are MUDDY. We recommend rubber boots, but OLD sneakers or neoprene dive booties are OK, too.
• Bathing suit, beach towel and a t-shirt to wear in the pool for Discover Scuba.
• Flashlight, frisbee
Bedding is supplied in the DMC dorm.
More Questions?
Contact Jodie by phone 207.581.4385 or email Jodief@maine.edu
If you are a person with a disability and need an accommodation to participate in this program, please call Jodie Feero, as early as possible, at 207.581.4385 to discuss your needs.