Social-ecological coastal marine systems across Latin America: Challenges, opportunities and solutions

Interested in learning about small-scale fisheries in Latin America? Join other students, researchers, and fisheries practitioners for virtual seminars on Thursdays, 12 EDT. 
Download a flyer to post and share! (English or Spanish)
Advance registration is required. Register for each seminar and discussion separately, via the links below.  
October 7 Participatory science & action in coastal social-ecological systems of Pacific Baja California, Mexico. Presented by Fiorenza Micheli (Stanford University) & Jorge Torre (COBI).
October 21 Integrating social and ecological systems: Experiences from coastal fisheries and conservation in Chile. Presented by Stefan Gelcich (Pontificia Universidad Católica).
November 4 From knowledge to action in co-management of artisanal fisheries in Peninsula Valdés, Argentina. Presented by Ana Parma & Ana Cinti (Centro Nacional Patagónico-CONICET). 
November 18 Studying self-governance to understand sustainability in Mexican fisheries social-ecological systems. Presented by Xavier Basurto (Duke University).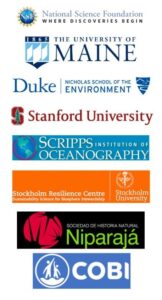 Graduate Students: Talk with your advisor about how to receive credit for participating in the seminar series, together with the associated discussion sessions, designed specifically for graduate student networking and learning: 
This series is made possible through the generous support of the US National Science Foundation through Award 2009821, and in kind contributions by members of the MAREA Collaborative, including individuals at COBI, Duke University, La Sociedad de Historia Natural Niparajá, A.C, Stanford University, Stockholm University, and the University of Maine.
For more information about MAREA or this series, please contact
heather.leslie@maine.edu
or
mateja.nenadovic@duke.edu
.