2021 Semester By the Sea Course Descriptions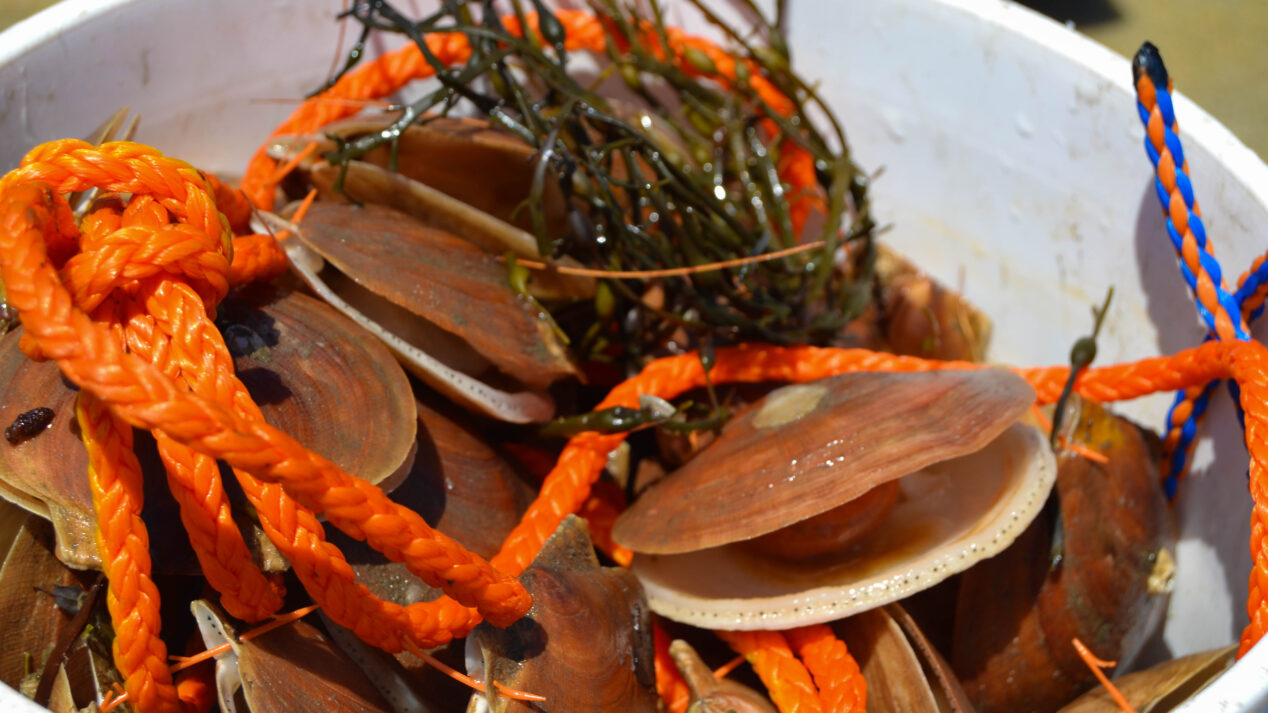 SMS 324: Scientific Diving
Students will be instructed in advanced diving skills, dive rescue, oxygen administration, and research diving techniques.  Practical field diving activities will be a large focus of the course.  The course will be taught by the UMaine Diving Safety Officer (DSO), selected UMaine faculty, and guest lecturers experienced in using scuba diving as a research tool.  Following successful completion of course objectives, students will be eligible to participate in diving research projects as a scientific diver-in-training or scientific diver.  Students will also be eligible to apply for applicable recreational diving certifications.  Participation is not a guarantee of certification.
If you have a recreational certificate and hope to pursue scientific diving in your academic career, this is the class for you! 
Please visit the UMaine Scientific Diving website for detailed information about the program, under the 'Diver Training' and 'SMS324' tabs. Please read the information on the Scientific Diving course information page carefully, you will not be able to register until you complete the process outlined on that page. 
Instructor: Christopher Rigaud, UMaine Dive Safety Officer
Credits: 3
Modality: Limited enrollment, in person
Schedule: Wednesdays (all day) can be taken during the summer or fall semester
---
SMS 350: Undergraduate Professional Development Seminar
This seminar provides an opportunity to reflect on your professional goals and passions, and to hone skills related to job seeking, graduate school searches and applications, and professional networking and community engagement. You will have opportunities to practice writing and peer reviewing diverse forms of professional writing, including resumes, brief biographies, letters to professional colleagues and prospective employers, and essays. The course will be offered as a hybrid (with both online and in person instruction) and thus will not meet weekly at a regular time, unlike all other SBS courses. It will include off campus field trips on occasion, both during the week and on the weekend. These field trips will be scheduled to avoid conflicts with the other SBS courses. This course is required for all students enrolled in Semester by the Sea. 
Instructor: Heather Leslie
Credits: 1
Modality: Hybrid
Schedule: TBD to avoid conflicts with other SBS courses
---
SMS 450: Observing Marine Ecosystems: A Field Course in Measurement and Instrumentation
This seven week, field-intensive course offers hands-on instruction in instruments and methods for measuring biological and physical variables associated with observing change in marine ecosystems. Activities will include intensive training in the collection of water and plankton samples at sea, sediment collection and analysis, operation of the University's CTD-Rosette system, sondes and held held sensors, and processing of samples for nutrients, eDNA, bacteria, chlorophyll a and zooplankton biomass.  Student also will participate in a research cruise on the R/V Ira C to stations located in the Damariscotta Estuary and off the Maine coast as a contribution to time-series observing for the Gulf of Maine Marine Biodiversity Observation Network. The remainder of the seven weeks will be devoted to sample processing and an introduction to identification of living marine phytoplankton and zooplankton. Lectures will introduce students to local, national and international marine ecosystem observing programs.  The course will be taught by a member of the SMS faculty and two technical research staff. This course is required for all students enrolled in Semester by the Sea. 
Instructor: Jeffrey Runge
Credits: 2
Modality: Residential, in person
Schedule: Fridays
---
SMS 491: Aquaculture
In this course, students will explore the range of ways that food is grown in the sea, from macroalgae to shellfish to finfish culture, as well as the scale and design of the systems that support growing these species for food.
As one of the first areas in the US to culture kelp and the site of some of the largest proposed Recirculating Aquaculture Systems (RASs) in the world, Maine is an ideal natural laboratory to explore this important intersection among ecology, economics, food security, governance and technology. Practitioners of each of these different aquaculture technology sectors will share the opportunities and challenges they see in their industry as part of this course.
Through the experimental aquaculture farm at the Darling Marine Center, where we raise oysters, scallops, and kelp, provided public health conditions allow it, students will have the opportunity to participate in field trips that involve measuring growth rates, learning about husbandry practices, and determining optimal oceanographic conditions for bivalve and kelp aquaculture. Ultimately, our course will take lessons learned in Maine and ask how aquaculture can be sustainably scaled up to address global challenges related to food production, coastal pollution, and climate change.
---
SMS 491/598: Biology of Marine Invertebrates
Most of the biodiversity of the world is made up of small to medium-sized invertebrates that represent 97% of all the animals on the planet. About 1-2-million invertebrates have been described with an estimated 30-million remaining to be discovered. Invertebrates can be divided into approximately 35 basic body plans and they can be found in every marine habitat from the bottom sediments to the overlying water column and from shallow, intertidal zones to the deep sea. This course will deal with the general biology of coastal and deep-water marine benthic and pelagic invertebrates, including their functional morphology, behavior, ecology, phylogenetic relationships, parasites, life histories and role in human history. We will use a combination of online lectures, dissections and virtual field trips to illustrate the invertebrates and bring them to life through the computer. This course is a basic level Invertebrate course and relies heavily on our required textbook, The Invertebrates (Brusca, 2016). 
---
SMS 491: Coastal and Estuarine Oceanography
The course examines the principles of oceanography in coastal and estuarine settings, including how the physical, chemical, and biological properties of these habitats are controlled by geomorphology, winds, tides, and human impacts.  Students will learn how estuaries and the coastal ocean evolve with seasons, and they will develop expertise in the environmental conditions that control growth of coastal and estuarine organisms.
---
SMS 491: Sea Change: Anthropogenic Shifts in Ocean Systems
We are entering an era of accelerated, anthropogenic change in Earth's systems, and many effects are occurring or are predicted to occur in the oceans.  In this writing- and discussion-centered course, students will examine and understand the evidence for these shifts, and explore the observed and predicted consequences for marine systems.  Possible topics will include melting ice and increasing temperatures; the spread of low-oxygen conditions and ocean acidification; and the accumulation and cycling of pollutants.  Small-group discussions will center around readings taken from the primary literature, while writing assignments will focus on communication of scientific concepts to a range of technical and non-technical audiences, and will provide opportunities for students to practice editing and revising their work.  Throughout, we will emphasize the process by which scientific observations are evaluated and disseminated as general knowledge.
*In order to fully participate in collaborative writing and editing work, students should have access to their own computer during the semester.  Students who are not able to bring a computer to the DMC should contact the instructor after registering to discuss alternatives.