SEA Fellows
2021 Summer Symposium
The SEA Fellows Program culminates in a summer science symposium on Tuesday, August 10, 2021, where undergraduate researchers working on an applied marine topic at a Maine institution will share their work.
The Symposium will be held in person at UMM's Marine Science Field Station at the Downeast Institute in Beals.
The list of presenters and their poster abstracts will be posted shortly. Contact Heather Leslie or Brian Beal with questions.
---
2021 SEA Fellows Program
Impacts of climate change, coupled with social and economic disruption created by the pandemic, have highlighted the importance of students concurrently gaining technical knowledge and experience and experience in collaboration, knowledge co-production and leadership.
The 2021 Sea Fellows Program has been designed with these student and societal needs in mind. Through a series of virtual round tables, held biweekly on Wednesdays at noon (June 2-August 11), SEA (Science for Economic Impact and Application) Fellows are learning more about climate-relevant science and action; meeting other undergraduate students statewide who share their interests in solutions-oriented research and public engagement; and honing their skills in communication and collaboration. The program culminates in a public symposium, where students will share their summer research.
---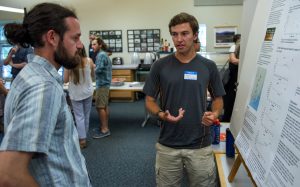 Partners & Support
The SEA Fellows Program is supported by UMaine's Darling Marine Center and the Downeast Institute, University of Maine at Machias' marine field station. Additional support of the program in the last five years has come from US National Science Foundation awards to Maine EPSCoR at UMaine, the UMS Research Reinvestment Fund, Henry David Thoreau Foundation, and grants led by individual collaborating faculty and external mentors.
To learn how you can be involved as a student or as an industry or academic mentor, please contact Heather Leslie or Brian Beal.