Aquaculture Hatchery & Lease Sites

The Marine Culture Laboratory (MCL) is home to most of our aquaculture research facilities and has ready access to the DMC's waterfront and lease sites. The  include a broodstock and quarantine room, larval room, algal culture facility with SEACAPS system and research bays.
The DMC hosts aquaculture and biotech start-ups in business incubator space coordinated by the Maine Aquaculture Innovation Center (MAIC).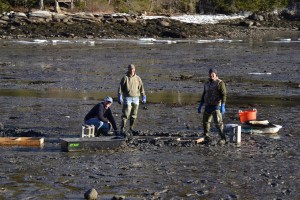 The aquaculture lease site is categorized by the Maine Department of Marine Resources as an Experimental Lease, meaning it is for holding and culturing organisms in research and education projects, not for commercial aquaculture purposes. The lease covers 1.7 acres spread over three tracts (one subtidal and two intertidal) in Lowes Cove and the Damariscotta River. It is easily accessible from the DMC waterfront by foot or by vessel, and permits a broad list of species (primarily bivalve shellfish and marine algae) to be cultured using a variety suspended and bottom culture techniques.  The flexibility built into the lease agreement facilitates future research, innovation and education, thereby continuing three decades of aquaculture at the DMC.
The lease currently supports Dr. Paul Rawson's oyster brood stock project and razor clam work, as well as Dr. Rick Wahle's research on scallop reproduction, and Sea Grant Extension Agent Dana Morse's trial of specialized netting for softshell clam seeding. In the near future, sugar kelp will also be growing on the site.
For inquiries on the Research/Demonstration Aquaculture Leases at the DMC, contact Dana Morse, Maine Sea Grant Extension Associate, at 207.563.8186 or dana.morse@maine.edu.
For inquiries regarding the Aquaculture Business Incubator or lab-based aquaculture research at the DMC, contact Chris Davis, at 207.832.1075 or christopher.v.davis@gmail.com