Housing
The DMC has an assortment of seasonal and year round housing options that can accommodate a variety of visitors, from undergraduate and graduate students to workshop participants and researchers with families. Please contact our Program Manger for housing reservations: dmc@maine.edu Prices can be found on our fees page.
Pets are not permitted in University housing.
UMaine Pet Policy
---
Dorm Rooms, Brooke Hall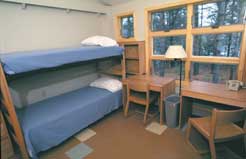 Brooke Hall is our waterfront dormitory/dining facility. In addition to the dining hall, there are sixteen dorm rooms each of which can accommodate up to 4 students or 2 professionals, and a suite with two rooms, private bath and living room. Each dorm room has two sets of bunk beds, two wardrobes and two desks. Common shower/bathrooms for men and women are down the hall. There is also a Long term residents, BYO bedding and towels. We supply bedding and towels for overnight guests. Wireless internet access in the dorm rooms.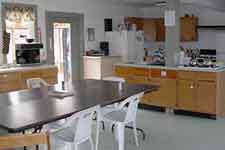 When no meal plans are offered, dorm residents can use the common kitchen on the upper campus for meal preparation. The fully equipped kitchen includes stoves, oven, refrigerators and plenty of cupboard space, as well as a coffeemaker, toaster, and microwave. There are also pots, pans, cooking utensils and dinnerware. The kitchen opens to a screened-in porch for outdoor dining.
There are no cooking facilities in the dorm. Microwaves and hot plates are not allowed in rooms.
---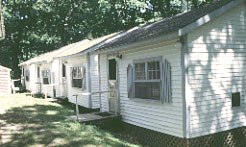 Cabins
There are six small cabins on the upper campus. Each cabin sleeps two to four people and has a private bath with shower and a kitchenette. The kitchenettes include a small refrigerator, two-burner stovetop and sink, as well as a coffee maker, toaster and basic cookware and dinnerware. Bedding and towels provided. Available seasonally.
---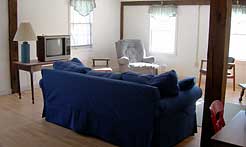 Wentworth Hall "Horse Barn" Apartment
This apartment is on the second floor of Wentworth Hall, Ira's old horse barn. There are two bedrooms, living room, bathroom and fully equipped, eat-in kitchen. The apartment sleeps up to four people. There is wireless internet access in the apartment.
---
Leeman Guest House
The Leeman Guest House is located at the entrance of the Darling Marine Center within easy walking distance of the upper campus. It sleeps up to four people in four bedrooms, and has two full baths, a living area, a fully equipped kitchen, and wireless internet access.
---
Willett House
The Willett House is located "off campus" on a quiet point of land about a mile from the upper campus. It has scenic river views,  2-1/2 baths, a living area, a fully equipped kitchen and wireless internet access. The Willett House can accommodate up to four people.